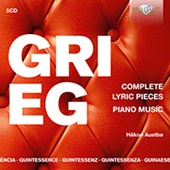 Håkon Austbo's wonderful and well-engineered Grieg recordings have floated around Brilliant Classics' catalog for years. They now appear in the label's new Quintessence series on five CDs that sell for the price of one. Austbo's performances are consistently direct, idiomatic, and as natural as breathing.
In his complete Lyric Pieces cycle, Austbo never overpoints or overinterprets. For example, the little Op. 12 No. 12 Vals that other pianists treat monumentally takes breezy wing in Austbo's hands. The March of the Trolls Op. 54 No. 5 features clean yet incisive scales in both directions. Op. 43 No. 1's Butterfly emerges more impulsive than usual. In contrast to Emil Gilels' drawn-out and thought-out way with At the Cradle Op. 68 No. 5, Austbo is faster and simpler.
The pianist may not shape the E minor Sonata's Menuetto with the myriad tempo fluctuations heard in Grieg's own recording, yet his virile and dynamically charged traversal matches Grieg's pianism in spirit, much more so than in the more sedate Leif Ove Andsnes or Eva Knardhal recordings. Austbo holds Grieg's large-scale Ballade together through animated pacing and assiduous tempo relationships from one variation to the next. And all of Disc 5's small, relatively inconsequential miniatures turn into gems by virtue of Austbo's innate charm and subtle use of tone color. You won't find a better Grieg piano music bargain anywhere on the planet.