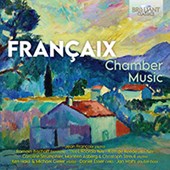 Jean Françaix (1912-1997)
Trio à cordes (1934)
Le Colloque des deux Perruches (1989)
Divertimento for Flute and Piano (1953)
Cantate de Méphisto (1952)
rec. 1993-95, Oud Katholieke Kerk, Delft, the Netherlands
Brilliant Classics 96341 [49]
Recorded in the 1990s, this is a re-release of a recording that originally appeared on the Ottavo Recordings label in 1996. By this time Jean Françaix was a grand-old master of French neoclassicism but was clearly still an agile pianist as proven in this performance of the Divertimento for flute with the composer at the piano. His original booklet notes for the album are also re-printed here, as is the text for Cantate de Méphisto, though not in translation from the French.
Françaix was 22 years old when he composed the String Trio for the Trio Pasquier, who established its popularity at numerous concerts. Beautifully balanced, its first two movements are delightfully animated, with a sprinkling of Shostakovich nervousness but without a trace of that composer's inevitable darkness. French élan and good humour is very much on show here, centred by a muted but quietly eloquent Andante third movement which hints at Ravel-like fantasy, the whole piece rounded off with a bustling Rondo.
There isn't so much good repertoire around for flute duet, and Le Colloque des deux Perruches (The Dialogue of Two Parakeets) for flute and alto flute has become a modern classic of the repertoire. The piece is a six-movement dialogue between the flighty upper voice of the concert flute, with the more elliptical sound of the alto flute taking an equal part while also adding a sense of timbral contrast. There is quite a lot of virtuoso writing in the opening Allegrissimo and following Presto, but the darting voices are also allowed expressive lines in two melancholy Larghetto movements. You'll never have heard parakeets quite like this, but you will wish you had as brightness of mood are restored in a final Allegro.
The Divertimento was written for flautist Jean-Pierre Rampal. Light in nature as the title suggests, there is a certain amount of irony here, as the composer stated, "if it is 'diverting' to listen to, it is not at all so to play it and requires great virtuosity." Composed in five movements, the opening Toccatina is certainly a tricky blow with its allegrissimo staccato notes. It's not all fireworks however, and another tour de force in the central Perpetuum Mobile is bookended by a lovely Notturno and a lyrical Romanza. The Finale is a jaunty Parisian promenade in which, I imagine, we are splashed by puddles and entertained by salon music emerging from cafés as the evening light fades.
Cantate de Méphisto sets a text by Paul Valéry, and according to the composer, "This 'Méphisto' is terribly authentic, cunning, subversive and perverse." Accompanied by the urbane sound of a string quartet with added double bass, this devil takes us briefly into the world of 20th century satirical French opera, the text set in a typically Gallic lyric parlando with a touch of verismo, and clearly avoiding any kind of aria-like sentimentality.
Having the composer as one of the performers is a nice USP for this recording but it is by no means a defining reason for acquiring it. All of the performances are excellent, and the recording is attractive and lively in its pleasant church acoustic. Some of this repertoire is available on the Prospero label (review) and elsewhere, but fans of classy French style and Jean Françaix in particular will be joyful at seeing this album available once again.
Dominy Clements
Original: https://www.musicwebinternational.com/2023/04/francaix-chamber-music-brilliant-classics/