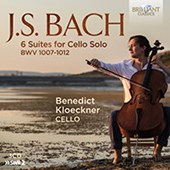 Johann Sebastian Bach: Cellosuiten BWV 1007-1012; Jose Elizondo: Unter dem Sternenhimmel des Rheins; Elena Kats-Chernin: I am Cello; Bongani Ndodana-Breen: Soweto Cello Riffs; Eric Tanguy: In Between; Geoffrey Gordon: Nes qu'on porroi; Dai Fujikura: Sweet Sweets; Benedict Kloeckner, Cello; 3 CDs Brilliant Classics 96403; Aufnahme 2020, Veröffentlichung 15.10.2021 (Int.), 22.10.2021 (D) – Rezension von Remy Franck
Der Cellist Benedict Kloeckner widmet sich Bachs sechs Solosuiten. Jeder Suite lässt er ein kurzes zeitgenössisches Werk folgen. Während der Corona-Pandemie hatte er Solo-Miniaturen bei sechs Komponisten in Auftrag gegeben. Das vorgegebene Motto lautete 'Klänge des Lichts' als Echo auf die weltweite Krisenzeit.
Erstaunlicherweise sind alle Stücke sehr melodisch und in einer gemäßigt modernen Tonsprache gehalten. Sie fügen sich so in das Programm ein, ohne größere stilistische Brüche zu schaffen, eher als Verlängerungen von denn als Kontraste zu Bachs Musik, deren Modernität damit einmal mehr unterstrichen wird.
Das passt zu Kloeckners Interpretation der Bach-Suiten, die keineswegs die Extreme sucht. Kloeckner überzeugt mit der Musikalität seiner Phrasierung, fein differenzierten Tempi und einer makellosen Intonation. Hinzu kommen ein spontan wirkendes Rubato in einem generell sehr warm klingenden, sowie tänzerisch, kantabel und leicht angelegten Spiel, und das gibt der Aufnahmen dann auch einen sehr persönlichen Stil. Der bleibende Eindruck ist wohl der einer beseelten und lebensfrohen Interpretation, die ich im Großen und Ganzen als herzerwärmend empfinde.
Cellist Benedict Kloeckner devotes himself to Bach's six solo suites. He lets each suite be followed by a short contemporary work. During the Corona pandemic, he had commissioned solo miniatures from six composers. The given motto was 'Sounds of Light' as an echo of the worldwide time of crisis.
Surprisingly, all the pieces are very melodic and in a moderately modern tonal language. They thus fit into the program without creating major stylistic breaks, more as extensions of rather than contrasts to Bach's music, whose modernity is thus once again emphasized.
This suits Kloeckner's interpretation of the Bach Suites, which by no means seeks the extremes. Kloeckner convinces with the musicality of his phrasing, finely differentiated tempi and flawless intonation. In addition, there is a spontaneous rubato in a generally very warm-sounding, as well as dance-like, cantabile and light playing, and this then also gives the recordings a very personal style. The lasting impression is probably that of a soulful and lively interpretation, which I find on the whole heartwarming.
Original review: https://www.pizzicato.lu/lebensfroher-bach/