Messiaen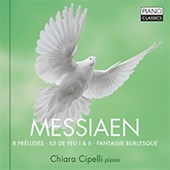 Olivier Messiaen: 8 Préludes + Pièce pour le tombeau de Paul Dukas + Ile de feu I & II + Fantaisie Burlesque; Chiara Cipelli, Klavier; 1 CD Piano Classics PCL 10200; Aufnahme 08/2019, Veröffentlichung 02/2020 (60'23) - Rezension von Remy Franck
Early and late works by Olivier Messiaen (1908-1992) are played by the Italian pianist Chiara Cipelli on this Piano Classics CD. The program begins with the Huit Préludes, an early work from 1928/29, in which the influence of Claude Debussy is evident. Messiaen was still a pupil of Paul Dukas at this time, for whom Messiaen composed the Pièce pour le Tombeau de Paul Dukas in 1936. The Burlesque was written even earlier, in 1932. Cipelli is playing these contrasty compositions with the multitude of timbres that make the music so appealing.

The pianist then takes us into another world with the more recent works, delivering powerful but at the same time very imaginative interpretations of these two pieces from Messiaen's experimental phase. They are part of the Quatre études de Rythme, and Ile de feu II is considered Messiaen's first totally serial piece.

Cipelli succeeds with the difficult rhythmic structure without the listener noticing the difficulty of the piece, which means that the interpretation takes precedence over the technique.
The recorded sound is ideally spatial for this music.