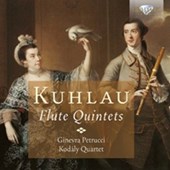 Brilliant Classics is a label well known to collectors for its extensive catalog of bargain collections and editions. These compilations are culled by licensing previously released and largely unavailable material from major record labels. However, the label has also been quietly building a fine catalog of their own original recordings, many of which have appeared previously on the virtual pages of Expedition Audio. This new recording of the Flute Quintets, Op. 51 nos. 1-3 by Friedrich Kuhlau is one of the latest such releases, beautifully performed by flautist Ginevra Petrucci and members of the Kodály String Quartet with violist Mihály Várnagy. 

Friedrich Kuhlau (1786-1832) was a Danish composer active during the late Classical and early Romantic periods. Mozart, Spohr and Weber all had a great influence on his music, but no composer did so much as Beethoven, whom Kulau idolized. He used his prominence in the Copenhagen music scene to grow an audience for Beethoven's music in Denmark. One of his first great successes was the Piano Concerto in C major, Op. 7, modeled so closely on Beethoven's First Piano Concerto as to practically be a pastiche. 

Aside from his compositions for solo piano (which hold a firm place in the instrument's pedagogy as well as the repertoire) and the stage works he composed for the Dansh National Opera, Kuhlau's most important area of output was chamber music. He had a firm grasp of the technical and expressive qualities of the flute, an instrument appearing in more than sixty of his chamber works. In the three flute quintets of opus 51 heard on this recording, the quartet of string players is rather uncommonly scored for one violin with two violas and a cello. This instrumentation is indicative of Kuhlau's intention that the flute be not so much a solo instrument in these settings as a member of the ensemble, very much taking on the role of a first violin. At the bottom of the spectrum, the two violas with cello lend a rich, resonant timbre to the body of sound. 

There have been recordings of these pieces made in the past, but none other seems to be currently available. If you're listening to the album sample provided in the sidebar, you're hearing fourth movement Allego assai from theFlute Quintet in D, Op. 51 no. 1. This generously filled album holds just under eighty minutes of this elegant and charming music.
http://www.expeditionaudio.com/kuhlau-flute-quintets/
album: http://www.brilliantclassics.com/articles/k/kuhlau-flute-quintets/