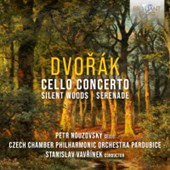 One of the many remarkable features to be found on MusicWeb is a project by Patrick Waller and Renate Dehmer that aims to list as many cello concertos as possible, and, where recordings exist, to indicate them. Most of us, accustomed as we are to hearing a mere handful of such works, will be astounded at how many the researchers have unearthed.
Dvořák's B minor concerto is, they tell us 'possibly the most recorded cello concerto of all'. It was premiered in London in 1896, in a performance that, as Lukáš Hurník writes in the slim Brilliant booklet, 'became the first in an endless series of international triumphs.' Dvořák's masterpiece will always, I think, be pre-eminent among cello concertos for many listeners. It is a jewel, its appeal never diminishing however many times one hears it. It is also an inevitable rite of passage for any cellist hoping for a solo career, and indeed rare is the celebrated cellist who has not played and recorded it. For many years my favourite on disc was the classic Rostropovich reading with Karajan on DG. It is a version that every listener needs to hear, but over the years I have come to find in that performance a certain sheen, a soft edge, perhaps more typical of the conductor than of the sublime soloist. Another Rostropovich performance from 1952, with the Czech Philharmonic Orchestra conducted by Vaclav Tálich and now available in an excellent transfer on Pristine Audio, is no less brilliantly played, and is tauter, more in keeping, so it seems to me, with the nature of the work. The passion, sometimes almost manic, that was so characteristic of Rostropovich's playing, is more apparent in that performance from Prague. Amongst other readings, of which there are hundreds, I have never much warmed to Jacqueline du Pré's, but do enjoy that by Raphael Wallfisch, brilliantly accompanied by Mackerras and the London Symphony Orchestra. More recently, on Onyx, has appeared a totally convincing performance by Pablo Ferrández and the Stuttgart Philharmonic Orchestra and Radoslaw Szulc. Now comes a new performance from a Czech cellist whose name was unfamiliar to me, as part of a most attractive programme.
The orchestra is relatively restrained in number, and you will not experience the glorious richness of the Berlin Philharmonic when the violins swell and soar a couple of minutes in. But what you do get, and this is a huge plus point, is clarity of texture, both within the string section and throughout the ensemble. As a result, and listening with the score, I heard details I had never really noticed before but was able to confirm by looking higher up on the page. Considerable care has been taken to respect the tiniest expression marks – such as off-beat accents – and these, too, are brought out extremely clearly. The orchestral introduction, then, is most satisfying. Petr Nouzovský has been recorded rather closely – but I find this in almost all concerto recordings these days – and his opening statement is forthright and muscular, producing a most beautiful tone from bow, strings and fingers. He is relatively free with tempo, slowing down considerably, for instance, at the Molto sostenuto reprise of the opening theme, but this is always convincing and natural, even when the score does not ask for it. The slow movement is given a glorious performance, the opening theme played with great warmth by the soloist, and the trio of horns, accompanied by cellos and double basses, are particularly poised and poignant. The finale is just as fine, with the celebrated duet with the orchestra's leader rather more urgent and passionate than you might hear in rival performances. In the final section, when Dvořák can hardly bear to let go of his themes, Nouzovský is just as moving, just as inwardly fervent as any of his rivals. If I have heard more stirring performances of the thrilling close, once the soloist has fallen silent, this takes nothing away from the success of a reading that can now be added to my list of favourites in this glorious work.
A lovely performance of the cello and orchestra version of Silent Woods gives us another chance to revel in Nouzovský's sumptuous, singing tone, and the programme is completed by the adorable, early Serenade, in a lively performance marred only by a surprising reluctance to respect Dvořák's piano and pianissimo markings.
William Hedley
Original review: http://www.musicweb-international.com/classrev/2022/May/Dvorak-CC-95696.htm