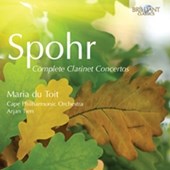 The four clarinet concertos by Louis Spohr are by no means rare these days. A fair number of the leading clarinet virtuosos have tackled them. What is less common - surprisingly - is to find a single set of all four concertos. There is no real shortage of clarinettists whose recordings of the four have been spread across two freestanding discs. However the only other double I could find with all four is one on the Alpha label with Paul Meyer and the Orchestre de Chambre de Lausanne. I have not heard that set but it is at full price while this is in the bargain range. 

Louis Spohr's concertos for clarinet and for violin lent his name some modest light during the long decades of neglect. Now, on CD, there are cycles of his symphonies, quartets and even several of his operas. His music bestrides the classical and early romantic eras and is alive with intimations of bel canto and Weber. 
  
Spohr wrote all his four clarinet concertos for his friend, Johann Simon Hermstedt. He must have been a determined and inventive character because when the First Concerto proved beyond the standard instruments of the time Hermstedt set about making some fairly radical changes to the mechanism of the clarinet. This hardly matters now in the face of music that is uniformly mellifluous, smoothly undulating and even somewhat mysterious. 
  
Do try the first movement of the Fourth Concerto with its almost supernatural operatic atmosphere. This unresisting and irresistible music-making is often smoothly redolent of the Mozart Clarinet Concerto - listen to the introductions to the Rondo finales of Nos. 2 and 4. More of the 'Wolf's Glen' magic can be heard in the first movement of No. 2. The bel canto flightiness and seductive charm of the Third Concerto's Allegro is ripely despatched by Maria du Toit who is well on top of the largely cantabilerequirements of this music throughout. She seems well in the same league as Emma Johnson, Thea King and John Denman. The Cape Philharmonic and Arjan Tien complement du Toit's artistry. Tien provides the liner-note essay and tells us that like Mozart, Spohr and Hermstedt were both freemasons. The recording is as agreeable as the music and there are good long pauses between works and movements. 
  
This is a most inexpensive way of exploring these unfailingly engaging and inventive classical clarinet concertos in a single double CD set. 
  
reviewed by Rob Barnett on Musicweb-International
read the article here on Musicweb-International
read about and listen to the album on Brilliant Classics here