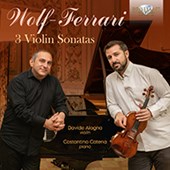 Ermanno Wolf-Ferrari (1876–1948), a composer who would benefit from his dual nationalities, Italian and German, retains a primary reputation for his work in comic opera, such as Il segreto di Susanna and I gioielli della Madonna. Wolf-Ferrari, who had trained first to be a painter but then decided on a musical career, entered in 1892 the Munich Academy and mastered counterpoint by way of composer-pedagogue Joseph Rheinberger. Arrigo Boito encapsulates Wolf-Ferrari's especial gifts in a letter of 1903: "Wolf-Ferrari is … a born musician…. His musical culture is equal to that of every accomplished Maestro. His artistic tendencies are as they should be, markedly modern, but without crazy excesses of modernity. His artistic nature is nobly impetuous, passionate and poetic." Somewhat like Richard Strauss of Der Rosenkavalier sensibility, Wolf-Ferrari presents 18th-century manners orchestrated in the syntax of the 20th century.
The present survey of Wolf-Ferrari's three violin sonatas, 1895–1941, offers us the instrumental side of an eminently tonal, natural "singer" in music, an independent thinker and creator devoted to beauty, not to what he acerbically termed "works of art produced by racked brains that produce mathematics, if anything, but not music." The Sonata No. 1 in G Minor, op. 1 (1895), while a product of studies with Rheinberger, possesses a sturdy sense of drama and innate lyricism easily traceable to Robert Schumann. The large first movement, Sostenuto – Allegro appassionato quasi presto, moves in both fervently declamatory and relaxed, arioso episodes; the keyboard part is as rich as that of the violin, here played on a superb instrument, the Carlo Testore "ex Wilhelmji," 1715. At moments, we hear echoes of the Brahms "Regenlied" Sonata, op. 78. The second movement, Lento senza tempo, bears itself in the manner of a chorale, a recitative in the violin—that soon flows arioso—answered by solemn, meditative passages on the piano. The piano takes up the chorale status, answered by double-stopped chords in the violin. A lovely, poised melody then dominates the movement, and its intimate color has the same, lyrical attractiveness we find in Grieg. The last movement, Sostenuto – Allegro ma non troppo e con spirito, enters with a strong sense of theatrical drama, but the tissue relents into the lyrical yearning that infiltrates movement one. Violinist Alogna's piercing tone and driven commitment make this op. 1 memorable.
The Sonata No. 2 in A Minor, op. 10 (1901), bears the hallmarks of fin de siècle Munich; in two 10-minute movements the composer seeks an original syntax, more compressed, austere, and Neoclassical, bearing the influence of Franck. The opening Appassionato moves aggressively, in short bursts of rhythmic or melodic tissue, reminiscent of exploratory Richard Strauss and Busoni, German in its attitude and modal scale patterns but Italian in its grudging concession to sentiment. The second movement, Recitativo – Sostenuto con amore, semplicemente, again invites comparisons with Franck; the soaring melodic line aches for rapture, almost Wagnerian, in pianist Catena's commanding, sweeping figures. But after three minutes, the tone of the piece becomes markedly demure and intimate, in the manner of Brahms, with a few moments of lyrical passion. The music gradually dies away in soft but ardent tones.
The 1943 Sonata No. 3 in E Major, op. 27, bears Neoclassical traits, especially in the learned use of counterpoint. In four movements, through-composed with the initial materials, the music contains the opposing forces in Wolf-Ferrari's nature, his refined melos, and his capacity for vivid passion. The initial impetus of the opening Allegro moderato proves relaxed and genial, indulging in a lightly buoyant singing line with occasional sojourns into fugato procedure. The texture fills out, exploding in angular harmony into "orchestral" sonority. The coda alone proves quite compelling. I am reminded of my first encounter with Wolf-Ferrari's Violin Concerto, courtesy of Guila Bustabo. The second movement, Andantino con innocenza, literally speaks for itself: its stepwise melody projects a studied air of naïveté, a delicate gavotte style that supports one critic's epithet for Wolf-Ferrari as "a late nephew of Mozart and Cimarosa." The third movement, Allegro con passione, reminds us of Brahms, who too in late works revived moments of youthful ardor. The driving urgency of the duo's collaboration here more than suggests what they could bring the Franck A-Major or the Beethoven "Kreutzer." The last movement, Allegro molto con fuoco piu allegro del primo tempo, serves as synthesis of the composer's style: utilizing the melody of movement one, this music subjects the tune to various and energetic manipulations in fugato, recitative, and octave displacements. The competing impulses, rash and tender, to make for a compressed amalgam of Wolf-Ferrari's virtues as a first-class inventor of sturdy and compelling chamber music. Gary Lemco