A Minimal Sax: Glass, Nyman, Reich, Torke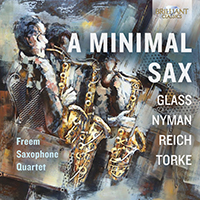 Download booklet
| | |
| --- | --- |
| Composer | Michael Nyman, Michael Torke, Philip Glass, Steve Reich |
| Artist | Freem Saxophone Quartet |
| Format | 1 CD |
| Cat. number | 95909 |
| EAN code | 5028421959092 |
| Release | May 2019 |
About this release
'A Minimal Sax' takes a journey through the last 30 years of minimalist music, one of the most influential artistic movements of the last century. An accomplished young Italian ensemble takes us from the purism of 'New York Counterpoint' by Steve Reich through the soulful strains of the Saxophone Quartet by Philip Glass, to the funky rhythms of Michael Torke's 'July' and the catchy offbeats of Michael Nyman's Second String Quartet, in a version for saxophones which here receives its world premiere recording.

Back in 1968 it was Nyman who coined the term Minimalism, in an article for 'The Spectator', to describe music by composers such as Cornelius Cardew that could be relied upon for its effect in clearing a listener's mind. 'Simple idea, straightforward structure, intellectual control, theatrical presence and intensity in presentation': these were the other criteria he applied to music or at any rate musical events masterminded by Nam June Paik and the 'Naked Cellist', Charlotte Moorman.

By that point, Reich and Glass had already been writing influential pieces such as It's gonna rain which shared the qualities listed by Nyman. Their works for saxophone date from later in their careers, once Minimalism had been established as an unstoppable cultural force that had brought millions of young listeners into concert halls. They were attracted by the hypnotic repetitions that are a trademark of these pieces, particularly suited to the medium of saxophone quartet, but even more to the rhythmic rigour and fresh yet recognisable harmonies shared by all four works here.

Founded in 2017, the Freem Saxophone Quartet comprises four recent graduates from distinguished Italian conservatoires who have already played in festivals and concert halls the world over. As an ensemble they perform the established repertoire for saxophone quartet and commission a great deal of new music. This is their debut album.

A Minimal Sax is a journey through the analogies, differences, and evolution of languages of minimalist music, one of the most important artistic movements of the last century. These works show its many sides: from the purism of New York Counterpoint by Steve Reich to the mood swings of the Saxophone Quartet by Philip Glass, from the melody entwined with rhythm of String Quartet No.2 by Michael Nyman to the rhythmic patterns echoing pop music found in July by Michael Torke.
The tonal, rhythmic, and expressive possibilities of the saxophone quartet connect these related yet diverse compositions: a fascinating listening experience!
The Freem Saxophone Quartet was founded in 2017, it quickly established itself as one of the most adventurous present day ensembles, playing at new music festivals and commissioning new works by contemporary composers.
The booklet contains excellent liner notes in both English and Italian.
Track list
Disk 1
Steve Reich: New York Counterpoint: I. —

Steve Reich: New York Counterpoint: II. —

Steve Reich: New York Counterpoint: III. —

Philip Glass: Saxophone Quartet: I. —

Philip Glass: Saxophone Quartet: II. —

Philip Glass: Saxophone Quartet: III. —

Philip Glass: Saxophone Quartet: IV. —

Michael Nyman: String Quartet No. 2: I. Arr. David Roach

Michael Nyman: String Quartet No. 2: II. Arr. Freem Saxophone Quartet

Michael Nyman: String Quartet No. 2: III. Arr. David Roach

Michael Nyman: String Quartet No. 2: IV. Arr. David Roach

Michael Nyman: String Quartet No. 2: V. Arr. Freem Saxophone Quartet

Michael Nyman: String Quartet No. 2: VI. Arr. Freem Saxophone Quartet

Michael Torke: July