A. Scarlatti: Alto Cantatas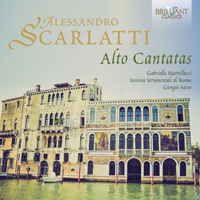 Composer
Alessandro Scarlatti
Artist
Gabriella Martellacci alto
Insieme Strumentale Di Roma
Giorgio Sasso conductor
Format
1 CD
Cat. number
94440
EAN code
5028421944401
Release
May 2014
About this release
The author of around 800 cantatas, Alessandro Scarlatti was the most prolific composer of this particular chamber genre during the Baroque period. In this engaging release we are introduced to two examples, both 'with instruments' and written for solo contralto, the voice type to which the Sicilian dedicated a mere 10 per cent of his cantata output.

Perchè tacete, regolati concenti is the first, a work that corresponds to the typically 17th-century themes of unrequited or unhappy love, with both the character and the music expressing the feeling of grief that underpins the text. The prose is actually quite weak in comparison to the quality of the music, and it may be that Scarlatti wrote it himself: he was, after all, described in the wording of his admission to the Arcadia as a 'professor or poetry'. It is in any case an early composition; the second cantata, Filen, mio caro bene, we know was written later, on account of its style as well as Arcadian subject matter (which by then was in vogue: the work is set in a natural context).

Complementing these works are a couple of concertos and sonatas by the composer, each set in a minor key. An all-Italian cast are at hand to perform the programme, with alto Gabriella Martellacci – who has appeared as a guest performer with such prestigious orchestras as the Royal Concertgebouw and Accademia Nazionale di Santa Cecilia – taking the lead in the cantatas.

Other information:
- Recorded: October 2012, Basilica dei Santi Bonifacio e Alessio, Rome, Italy.
- For a long time, Alessandro Scarlatti merely was "the father of" the more celebrated Domenico Scarlatti (the composer of 555 keyboard sonatas), but in recent years his genius as composer of an immense vocal oeuvre is widely recognized.
- Alessandro wrote some 800 cantatas for solo voice and instrumental ensemble, dramatic works on secular texts, dealing mainly with unrequited love, and the resulting grief and melancholy, exquisitely expressed in beautiful cantabile lines.
- The two Cantatas on this new recording (which also contains concertos and an instrumental sonata) are sung by the famous Italian alto Gabriella Martellacci, a household name in the Early Music scene, a regular guest with ensembles like Concerto Italiano (Rinaldo Alessandrini) and Modo Antiquo (Federico Maria Sardelli).
- Booklet includes notes on the music, sung texts and performer biographies.
"Error parsing XSLT file: GetRecommendedReleases.xslt