Adelaide: Beethoven and the Guitar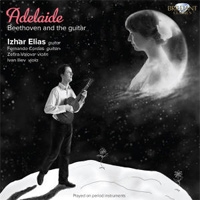 Composer
Ludwig van Beethoven
Artist
Izhar Elias guitar
Fernando Cordas guitar
Zefira Valova violin
Ivan Iliev viola
Format
1 CD
Cat. number
94631
EAN code
5028421946313
Release
September 2013
About this release
The guitar is not the first instrument one associates with the towering figure of Beethoven, but he did know and appreciate the instrument, and even wrote some chamber music pieces for it.

This imaginative recital of chamber music by Beethoven takes its inspiration from the Romantic poem of the album title which describes the kind of unattainable love to which Beethoven was throughout his adult life susceptible, and from which he appears himself to have drawn creative energy. His own setting of Adelaide (the text of which appears in the booklet in both Matthisson's original and in English translation) was arranged by the 19th-century guitarist-composer Nicholas Coste; it introduces not only the playful Op.8 Serenade, perhaps the most obvious contender among Beethoven's music for a transcription of the piano part to the piano, but movements from two of his string quartets and even the funeral march from his Piano Sonata Op.26, transcribed for guitar solo or duo and played here on instruments of the period by a young and dynamic ensemble of European musicians, led by Izhar Elias, who have already released acclaimed recordings on Brilliant Classics, including guitar music in memory of Debussy (9246), spectacular transcriptions of Rossini arias (93902) and a sparkling survey of 17th-century music from the Spanish territories (94352). Elias himself plays a selection of guitars on this recording, by Guadagnini and Stauffer père et fils, including a rare terz model, which is smaller than the regular model and tuned a minor third higher to produce a more brilliant and penetrating sound in company with other instruments.

Other information:
- New recording made in April 2013.
- This original and appealing programme presents works of Beethoven in chamber music arrangements with guitar, written by contemporaries, a practice that was quite common in the period, playing its role in the popularisation of the music.
Eminent guitarist Izhar Elias plays on several period instruments, including a rare "terz" instrument, smaller in size and tuned a minor third higher in order to achieve a more brilliant sound. He is joined by violin, viola and another guitar, according to the setting of the arrangements.
- Unique album concept.
- Extensive booklet notes written by the artist.
Track list
Disk 1
Adelaide, Op. 46 for Viola and Guitar (Arr. N. Coste)

String quartet, Op. 59 No. 3 'Razumovsky': Andante con moto quasi allegretto for Guitar Duo (Arranged by V. Schuster)

Potpourri on Favorite themes by Beethoven for Violin and Guitar (Arr. A Diabelli)

Piano Sonata No. 12, Op. 26: Marche Funèbre for Guitar Solo (Arr. S. Volker)

Piano Sonata No. 12, Op. 26: Andante varié and Rondeau for Guitar Duo (Arr. F. Carulli)

String quartet, Op. 18 No. 5: Tema con variazioni. Andante cantabile for Guitar Duo (Arranged by V. Schuster)

Serenade, Op. 8 for Guitar, Violin, Viola (Arr W. Matiegka, Izhar Elias): Marcia. Allegro non molto – Adagio

Serenade, Op. 8 for Guitar, Violin, Viola (Arr W. Matiegka, Izhar Elias): Menuetto. Allegro – Trio

Serenade, Op. 8 for Guitar, Violin, Viola (Arr W. Matiegka, Izhar Elias): Adagio – Allegro scherzo

Serenade, Op. 8 for Guitar, Violin, Viola (Arr W. Matiegka, Izhar Elias): Allegretto a la pollacca

Serenade, Op. 8 for Guitar, Violin, Viola (Arr W. Matiegka, Izhar Elias): Andante quasi allegretto con variazioni – Allegro

Serenade, Op. 8 for Guitar, Violin, Viola (Arr W. Matiegka, Izhar Elias): Marcia. Allegro non Molto

Excerpt of Andante Favori, WoO 57 for Guitar Solo (Arr. F. Carulli)
"Error parsing XSLT file: GetRecommendedReleases.xslt