Andriessen: Miroir de Peine, Orchestral Music & Concertos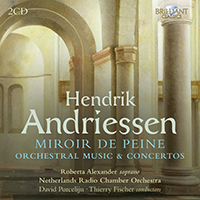 Download booklet
Composer
Hendrik Andriessen
Artist
Roberta Alexander soprano
Netherlands Radio Chamber Orchestra
David Porcelijn, Thierry Fischer conductors
Format
2 CD
Cat. number
96105
EAN code
5028421961057
Release
July 2021
About this release
The opulent soundworld of a Dutch late-Romantic master, still too little known outside his native country.
Rarefied spirituality and refined sensuousness are the hallmarks of Hendrik Andriessen's (1892-1981) idiom, which offers an ethereal synthesis of Franckian chromaticism with an individual interpretation of classical forms and church modes. Though he trained as an organist, his writing for other solo instruments is fluent and idiomatic. The concertos for violin, cello and oboe share the silken textures of his better-known orchestral music, and this album won glowing reviews when first released in 2000.
The album's headline work is Miroir de peine, a languorous song-cycle to Henri Vangeon's poems of religious ecstasy describing the suffering of Christ from the perspective of the Virgin Mary. It has attracted the advocacy of great sopranos from Elly Ameling to Christiane Stotijn. This 1991 recording by Roberta Alexander won an enthusiastic welcome from the critics for the poise and beauty of her performance and the richness of the engineering.
Andriessen esteemed Franck as 'a musical philosopher in the truest sense of the word,' who drew 'intense sentiments from the intuitive side of his genius into an orderly gestalt.' Much the same could be said of Andriessen's own idiom throughout his career, as this half-century retrospective over his career confirms, from the solemn lushness of Magna res est amor of 1919 to the Chromatic Variations and Cello Concertino of 1970. The Violin Concerto (1968-9) is still essentially couched in a Romantic vein, but shaded with more 20th-century accents of tonal anxiety, akin to Vaughan Williams and Casella in the 1930s. Any listener for whom conservatism is not a dirty word will relish becoming acquainted with Andriessen's powerful expressive voice in these beautifully prepared and engineered performances.

Miroir de peine, etc: 'In this career-spanning retrospective, the sensuousness of Hendrik Adriessen's early songs contrasts with the Debussyan modality of Miroir de peine. Committed performances.' Gramophone

Concertos: 'I just can't stop playing this disc [which] represents him at his best… I urge everyone to hear it.' Fanfare

Hendrik Andriessen was born in Haarlem, The Netherlands. His father, Nicolaas Hendrik Andriessen, was the music director and organist at the St. Josef Church in Haarlem. Music played a major role in the Andriessen home and the young Hendrik assisted his father in his musical (church) duties.
When Hendrik's father died suddenly in 1913 Hendrik took over his musical post, making a complete career switch, having previously chosen to be a journalist. That year marked the completion of his first major organ composition, Premier Choral, which clearly shows the influences of César Franck. During the following year, Andriessen started his official studies in composition at the Amsterdam Conservatory under the tutelage of Bernard Zweers. He received his diploma a mere two years later. Andriessen's first mature works include religious compositions, organ works, chamber music and lieder.
Andriessen's style shows obvious influences of the French composers Vincent d'lndy, César Franck, Gabriel Pierné and Albert Roussel. Andriessen was no fan of ultra-emotional expressionism. Instead, he achieved a more interior type of expression showing his admiration for Cesar Franck's 'objective' style.
This 2-CD set present vocal and orchestral works by Andriessen: the famous orchestral song cycle Miroir de Peine, as well as orchestral variations and concert(in)os for violin, cello and oboe, beautiful music of an inner, contemplative strength, lyrical and spiritual.
Excellent performances by soprano Roberta Alexander (Miroir de peine) and the Netherlands Radio Chamber Orchestra conducted by David Porcelijn and Thierry Fischer.
Listening
Track list
Disk 1
Hendrik Andriessen: Miroir de peine: I. Agonie au jardin

Hendrik Andriessen: Miroir de Peine: II. Flagellation

Hendrik Andriessen: Miroir de Peine: III. Couronnement d'épines

Hendrik Andriessen: Miroir de Peine: IV. Portement de croix

Hendrik Andriessen: Miroir de Peine: V. Crusifixion

Hendrik Andriessen: Magna res est amor

Hendrik Andriessen: Fiat domine

Hendrik Andriessen: Variations and Fugue on a Theme by Kuhnau

Hendrik Andriessen: Variations on a Theme by Couperin

Hendrik Andriessen: Chromatic Variations
Disk 2
Hendrik Andriessen: Concertino for Cello and Orchestra: I. Largo - Allegro ma non troppo

Hendrik Andriessen: Concertino for Cello and Orchestra: II. Allegro con spirito

Hendrik Andriessen: Concertino for Oboe with String Orchestra: I. Sonata, allegro

Hendrik Andriessen: Concertino for Oboe with String Orchestra: II. Aria. Andante

Hendrik Andriessen: Concertino for Oboe with String Orchestra: III. Fugato a capriccio. Allegro ma non troppo

Hendrik Andriessen: Canzona for Cello Solo and Orchestra

Hendrik Andriessen: Concerto for Violin and Orchestra: I. Allegro moderato

Hendrik Andriessen: Concerto for Violin and Orchestra: II. Grave e lento

Hendrik Andriessen: Concerto for Violin and Orchestra: III. Allegro vivace