Bartok: Complete Music for 2 Pianos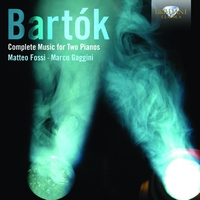 Composer
Béla Bartók
Artist
Matteo Fossi piano
Marco Gaggini piano
Format
2 CD
Cat. number
94737
EAN code
5028421947372
Release
March 2014
About this release
This 2CD set presents a complete survey of Bartók's music for two pianos. The works and arrangements here all stem from Bartók's special artistic collaboration with his wife, the pianist Dittá Pásztory. From 1938, the couple began giving regular public concerts together, and this led the composer to write his version for two pianos of the Suite Op.4, an arrangement of seven of the pieces from Mikrokosmos, and the much-loved Sonata for two pianos and percussion.

The works included here are testimony to Bartók's skilful and remarkably versatile approach to piano-writing. In the Suite Op.4b, for example, Bartók radically revised the original orchestral score of the Suite Op.4 (one of his earliest works, and one of the first to bring to fruition the musical ideas that he explored after researching Hungarian music's rich folk heritage) to create a work that is so idiomatically pianistic that one would never guess it had originally been written for orchestra. By contrast, the transcription of the brilliantly colourful ballet score The Miraculous Mandarin brings the dramatic orchestration of this controversial work to life. The pieces from Mikrokosmos were originally studies for solo piano; in the two-piano arrangement Bartók transforms them into veritable virtuoso showpieces. The Sonata for two pianos and percussion is one of Bartók's most famous works and its striking rhythmic experimentation and consummate assimilation of folk influences mark the culmination of the composer's mature style. Bartók's complete works for two pianos are complemented here by György Ligeti's Three Pieces for two pianos; Ligeti was greatly influenced by Bartók's legacy and went on to become one of the most important Hungarian composers of the twentieth century.

These challenging works are performed by acclaimed pianists Matteo Fossi and Marco Gaggini, who formed a piano duo while studying together in Florence in 2004. Their pioneering 'Two Pianos Project' aims to extend the scope of the piano far beyond the confines of its traditional repertoire and has given rise to many warmly received recordings.

Other information:
- Recorded in January 2013 in Perugia, Italy.
- A Béla Bartók's works for two pianos were inspired by the collaboration with his wife, pianist Ditta Pasztory, with whom he gave many concerts.
- The famous Sonata for two Pianos and Percussion (a masterpiece) is an original work, the other works are arrangements of his own orchestral works: the colourful early Suite Op.4, in which he uses many folk song elements which he collected during his years of field research in Hungry and Transylvania, the 7 Pieces from Mikrokosmos, originally study pieces for piano solo, and the brutal and exuberant ballet The Miraculous Mandarin. Bartók, himself one of the best pianists of his time, didn't write mere "orchestral reductions for piano", but extremely well-crafted and pianistic works, masterful in their own right, making use of the many pianistic innovations of Bartók the pianist/composer.
- Played with total command and conviction by the Italian duo Matteo Fossi and Marco Gaggini.
- As a "bonus" the duo plays Ligeti's Three Pieces for Two Pianos, a tribute of one Hungarian master to another.
- Booklet includes detailed liner notes and biographies of the artists.
Track list
Disk 1
Béla Bartók: Suite for Two Pianos, Op. 4b, Sz. 115a: I. Serenata

Béla Bartók: Suite for Two Pianos, Op. 4b, Sz. 115a: II. Allegro diabolico

Béla Bartók: Suite for Two Pianos, Op. 4b, Sz. 115a: III. Scena della Puszta

Béla Bartók: Suite for Two Pianos, Op. 4b, Sz. 115a: IV. Per finire

Béla Bartók: The Miraculous Mandarin for Two Pianos, Op. 19, Sz. 73
Disk 2
Béla Bartók: Seven Pieces for Two Pianos from "Mikrokosmos" Sz. 108: No. 1, Bulgarian Rhythm

Béla Bartók: Seven Pieces for Two Pianos from "Mikrokosmos" Sz. 108: No. 2, Chord and Trill Study

Béla Bartók: Seven Pieces for Two Pianos from "Mikrokosmos" Sz. 108: No. 3, Perpetuum Mobile

Béla Bartók: Seven Pieces for Two Pianos from "Mikrokosmos" Sz. 108: No. 4, Short Canon and its Inversion

Béla Bartók: Seven Pieces for Two Pianos from "Mikrokosmos" Sz. 108: No. 5, New Hungarian Folk Song

Béla Bartók: Seven Pieces for Two Pianos from "Mikrokosmos" Sz. 108: No. 6, Chromatic Invention

Béla Bartók: Seven Pieces for Two Pianos from "Mikrokosmos" Sz. 108: No. 7, Ostinato

Béla Bartók: Sonata for Two pianos and Percussion, Sz. 110: I. Assai lento – Allegro molto

Béla Bartók: Sonata for Two pianos and Percussion, Sz. 110: II. Lento, ma non troppo

Béla Bartók: Sonata for Two pianos and Percussion, Sz. 110: III. Allegro non troppo

Béla Bartók: Three Pieces for two pianos: No. 1, Monument

Béla Bartók: Three Pieces for two pianos: No. 2, Self-portrait with Reich and Riley, and Chopin in the background

Béla Bartók: Three Pieces for two pianos: No. 3, In A Gentle Flowing Movement