Beethoven: Complete Piano Trios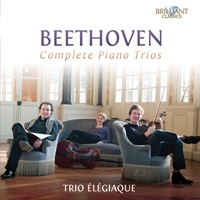 Composer
Ludwig van Beethoven
Artist
Trio Élégiaque
Laurent Le Flécher violin
Virginie Constant cello
François Dumont piano
Format
5 CD
Cat. number
94327
EAN code
5028421943275
Release
November 2013
About this release
The piano trio existed, in other guises, long before Ludwig van Beethoven got his hands on it. But he was the composer who would expand the genre beyond all recognition, using his relentless creativity to exploit the piano trio to its full potential.

Beethoven begins his transformation of the genre – after his first two trios in the style of Haydn – with the emancipation of the cello, giving greater individuality to each of the three instruments. Piano Trio Op.1 No.3 foretells – almost ten years in advance – the heroicism of the composer's 'middle period', and Op.70 No.2, written in 1808, is akin to the music of his 'late period'. He reached new heights of dramaticism in the 'Ghost' Trio, with its intense tremolandi, while in the 'Archduke' he displayed the sheer symphonic power with which we now associate him.

The works are performed here by Trio Élégiaque, an internationally acclaimed ensemble made up of three multi-award-winning performers: Laurent Le Flécher, Virginie Constant and François Dumont.

Other information:
- Recorded in 2012.
- Contains liner notes on the performer.
- Contains multiple liner notes on the works.
- For the bigger part of his life Beethoven occupied himself with the formation of the Piano Trio (piano, violin, cello). It offered him the perfect vehicle for the development of his compositional techniques (the three instruments acting as independent players in the quasi symphonic structures) and the exploration of instrumental brilliance and virtuosity (Beethoven himself was an excellent pianist).
- Beethoven considered his first three piano trios worthy of his first official Opus number, the number 1, works of great scope, drama and wit. The 2 trios Op. 70 form a bridge to late Beethoven, and find an equivalent in the Rasumovsky String Quartets Op. 59. The great Archduke Trio Op. 97 is magnificent in its symphonic breath and grandeur, one of Beethoven's longest chamber music works.
- This set contains also the shorter works for piano trio, arrangements, and the transcription of the Symphony No. 2 for piano trio, by Beethoven himself.
- The young French Trio Elegiaque has already received great critical acclaim for their recording of Messiaen and Dusapin (Diapason d'Or!). They played the Beethoven trio cycle several times in concert series, and their performances bear witness of their insight, enthousiasm and ensemble culture.
Track list
Disk 1
Ludwig van Beethoven: Piano Trio in G Major, Op. 1 No. 2: I. Adagio – Allegro vivace

Ludwig van Beethoven: Piano Trio in G Major, Op. 1 No. 2: II. Largo con espressione

Ludwig van Beethoven: Piano Trio in G Major, Op. 1 No. 2: III. Scherzo. Allegro

Ludwig van Beethoven: Piano Trio in G Major, Op. 1 No. 2: IV. Finale. Presto

Ludwig van Beethoven: Piano Trio in D Major, Op. 70 No. 1 "Ghost": I. Allegro vivace

Ludwig van Beethoven: Piano Trio in D Major, Op. 70 No. 1 "Ghost": II. Largo assai ed espressivo

Ludwig van Beethoven: Piano Trio in D Major, Op. 70 No. 1 "Ghost": III. Presto

Ludwig van Beethoven: Piano Trio in E-Flat Major, WoO 38: I. Allegro moderato

Ludwig van Beethoven: Piano Trio in E-Flat Major, WoO 38: II. Scherzo. Allegro ma non troppo

Ludwig van Beethoven: Piano Trio in E-Flat Major, WoO 38: III. Rondo. Allegretto
Disk 2
Ludwig van Beethoven: Piano Trio in C Minor, Op. 1 No. 3: I. Allegro con brio

Ludwig van Beethoven: Piano Trio in C Minor, Op. 1 No. 3: II. Andante cantabile con variazioni

Ludwig van Beethoven: Piano Trio in C Minor, Op. 1 No. 3: III. Menuetto. Quasi allegro – Trio

Ludwig van Beethoven: Piano Trio in C Minor, Op. 1 No. 3: IV. Finale. Prestissimo

Ludwig van Beethoven: Piano Trio in E-Flat Major, Op. 70 No. 2: I. Poco sostenuto – Allegro ma non troppo

Ludwig van Beethoven: Piano Trio in E-Flat Major, Op. 70 No. 2: II. Allegretto

Ludwig van Beethoven: Piano Trio in E-Flat Major, Op. 70 No. 2: III. Allegretto ma non troppo

Ludwig van Beethoven: Piano Trio in E-Flat Major, Op. 70 No. 2: IV. Finale. Allegro

Ludwig van Beethoven: Piano Trio in E-Flat Major, Op. 44: 14 Variations on an Original Theme: Tema. Andante con variazioni
Disk 3
Ludwig van Beethoven: Piano Trio in E-Flat Major, Op. 1 No. 1: I. Allegro

Ludwig van Beethoven: Piano Trio in E-Flat Major, Op. 1 No. 1: II. Adagio cantabile

Ludwig van Beethoven: Piano Trio in E-Flat Major, Op. 1 No. 1: III. Scherzo. Allegro assai

Ludwig van Beethoven: Piano Trio in E-Flat Major, Op. 1 No. 1: IV. Finale. Presto

Ludwig van Beethoven: Piano Trio in D Major, After Symphony No. 2, Op. 36: I. Adagio – Allegro con brio

Ludwig van Beethoven: Piano Trio in D Major, After Symphony No. 2, Op. 36: II. Larghetto quasi andante

Ludwig van Beethoven: Piano Trio in D Major, After Symphony No. 2, Op. 36: III. Scherzo

Ludwig van Beethoven: Piano Trio in D Major, After Symphony No. 2, Op. 36: IV. Allegro molto

Ludwig van Beethoven: Triosatz in E-Flat Major, Op. Posth. (Allegretto)
Disk 4
Ludwig van Beethoven: Piano Trio in B-Flat Major, Op. 97 "Archduke": I. Allegro moderato

Ludwig van Beethoven: Piano Trio in B-Flat Major, Op. 97 "Archduke": II. Scherzo. Allegro

Ludwig van Beethoven: Piano Trio in B-Flat Major, Op. 97 "Archduke": III. Andante cantabile, ma però con moto – Poco più adagio

Ludwig van Beethoven: Piano Trio in B-Flat Major, Op. 97 "Archduke": IV. Allegro moderato

Ludwig van Beethoven: Piano Trio in B-Flat Major WoO39 (Allegretto)

Ludwig van Beethoven: Piano Trio in E-Flat Major, Op. 63, After String Quintet, Op. 4: I. Allegro con brio

Ludwig van Beethoven: Piano Trio in E-Flat Major, Op. 63, After String Quintet, Op. 4: II. Andante

Ludwig van Beethoven: Piano Trio in E-Flat Major, Op. 63, After String Quintet, Op. 4: III. Menuetto – Trio

Ludwig van Beethoven: Piano Trio in E-Flat Major, Op. 63, After String Quintet, Op. 4: IV. Finale. Presto
Disk 5
Ludwig van Beethoven: Piano Trio in B-Flat Major, Op. 11 "Gassenhauer": I. Allegro con brio

Ludwig van Beethoven: Piano Trio in B-Flat Major, Op. 11 "Gassenhauer": II. Adagio

Ludwig van Beethoven: Piano Trio in B-Flat Major, Op. 11 "Gassenhauer": III. Tema. Pria ch'io l'impegno allegretto con variazioni

Ludwig van Beethoven: Piano Trio in G Major, Op. 121a "Ich bin der Schneider Kakadu" (Introduzione. Adagio assai – Tema. Allegretto con variazioni)

Ludwig van Beethoven: Piano Trio in E-Flat Major, Op. 38, After the Septet, Op. 20: I. Adagio – Allegro con brio

Ludwig van Beethoven: Piano Trio in E-Flat Major, Op. 38, After the Septet, Op. 20: II. Adagio cantabile

Ludwig van Beethoven: Piano Trio in E-Flat Major, Op. 38, After the Septet, Op. 20: III. Tempo di menuetto

Ludwig van Beethoven: Piano Trio in E-Flat Major, Op. 38, After the Septet, Op. 20: IV. Andante con variazioni

Ludwig van Beethoven: Piano Trio in E-Flat Major, Op. 38, After the Septet, Op. 20: V. Scherzo. Allegro molto e vivace

Ludwig van Beethoven: Piano Trio in E-Flat Major, Op. 38, After the Septet, Op. 20: VI. Andante con moto alla marcia – Presto