Brahms: Cello Transcriptions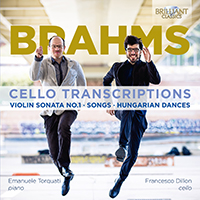 Composer
Johannes Brahms
Artist
Francesco Dillon cello
Emanuele Torquati piano
Format
1 CD
Cat. number
95415
EAN code
5028421954158
Release
March 2018
About this release
Arrangements of the First Violin Sonata and groups of songs and Hungarian dances, made by Brahms's contemporaries for an idiom close to the composer's heart, in new recordings by an experienced partnership.

Brahms, like most composers, had no scruple about arranging his own music for other forces, whether to disseminate it further or earn useful income or both. Sometimes he undertook the transcription of his orchestral works for the popular domestic market of piano duet; on other occasions he left the work to trusted friends and colleagues.

Although the composer did not apparently have any other instrument in mind when he wrote the First Violin Sonata, the piece sitspeculiarly well on the cello once transposed to the key of D major by the cellist Paul Klengel; its pervasive mood of profound melancholy is even enhanced by the cello's voice. Clara Schumann recognised the sonata as one of Brahms's most tender yet regretful
tributes to her, and wished that it should be played at her funeral, to which
purpose Klengel's transcription is eminently suited.

Norbert Salter (1868-1935) was a cellist who played under Mahler in both Budapest and Hamburg; this is his only published transcription, a set of six Lieder by Brahms which may well have been made under the elderly composer's supervision. Like the Brahms/Klengel Sonata, this is a sensitive yet now little-known piece of work which deserves modern appreciation.

Francesco Dillon and Emanuele Torquati conclude their fourth album for Brilliant Classics in a lighter vein, with nine of the ever-popular Hungarian Dances, arranged to stylish effect by the Italian virtuoso Alfredo Piatti who did so much to advance the cause of the cello as a solo instrument in the 19th century. The Italian duo's pair of Schumann albums (BC94060 and BC94328) were warmly welcomed in the critical press: reviewing the second volume, Il corriere musicale noted the 'persuasive, vibrant tone of Francesco Dillon and refined pianism from Emanuele Torquati.'

Johannes Brahms was a keen transcriber, he wrote numerous arrangements of his own works and those of others. Moreover he was happy when others transcribed his works for other instruments, that is when it was done by musicians he trusted. He considered it a form of theft for love, a manifestation for respect for tradition and a sign of friendship.
The transcriptions on this new recording were fully approved by Brahms, and they even found their place in the Brahms Thematic Catalogue made up by his publisher Simrock. The transcribers are Alfredo Piatti (Hungarian Dances), Paul Klengel (violin sonata No. 1) and Norbert Salter (songs). It is fascinating how essentially Brahmsian these transcriptions for cello and piano sound, the deep and slightly melancholy sonority of the cello fits Brahms music extremely well.
Cellist Francesco Dillon and pianist Emanuele Torquati already recorded similar albums for Brilliant Classics, notably of works by Robert Schumann, and they do so with complete commitment and love for the music.
Listening
Track list
Disk 1
Johannes Brahms: Violin Sonata in D Major, Op. 78: I. Vivace ma non troppo

Johannes Brahms: Violin Sonata in D Major, Op. 78: II. Adagio

Johannes Brahms: Violin Sonata in D Major, Op. 78: III. Allegro molto moderato

Johannes Brahms: Feldeinsamkeit, Op. 85

Johannes Brahms: Wie Melodien, Op. 105

Johannes Brahms: Sapphische Ode, Op. 94

Johannes Brahms: Wiegenlied, Op. 49

Johannes Brahms: Liebestreu, Op. 3

Johannes Brahms: Minnelied, Op. 71

Johannes Brahms: 21 Hungarian Dances, Op. 21: II. Allegro non assai

Johannes Brahms: 21 Hungarian Dances, Op. 21: IV. Poco sostenuto

Johannes Brahms: 21 Hungarian Dances, Op. 21: V. Allegro

Johannes Brahms: 21 Hungarian Dances, Op. 21: IX. Allegro non troppo

Johannes Brahms: 21 Hungarian Dances, Op. 21: XIII. Andantino grazioso

Johannes Brahms: 21 Hungarian Dances, Op. 21: XIV. Un poco andante

Johannes Brahms: 21 Hungarian Dances, Op. 21: XVI. Con moto

Johannes Brahms: 21 Hungarian Dances, Op. 21: XIX. Allegretto

Johannes Brahms: 21 Hungarian Dances, Op. 21: XX. Poco allegretto