Brilliant Opera Collections: Pfitzner: Palestrina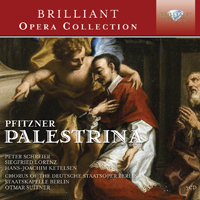 Download booklet
Composer
Hans Erich Pfitzner
Artist
Staatskapelle Berlin
Chor der Deutschen Staatsoper Berlin
Otmar Suitner conductor
Peter Schreier tenor
Siegfried Lorenz bass
Format
3 CD
Cat. number
95113
EAN code
5028421951133
Release
March 2015
About this release
Hans Pfitzner's musical legend Palestrina was first performed during the height of the First World War, a period when sensitive minds such as Pfitzner's felt uneasy about the cultural scene of bourgeois society. Even then, when the headlong descent into Nazi tyranny was still a long way off, the composer saw himself as an artist representing an era that was rapidly drawing to its close. He therefore projected his own situation onto the historical personality of the 16th-century composer Giovanni Pierluigi da Palestrina, who was credited with saving the art of contrapuntal church music during the Council of Trent.

Like all artists, the composer treated the facts rather freely to suit his own artistic intentions. He recycles thematic material from Palestrina's Missa Papae Marcelli, the work that allegedly settled the argument back in the uncertain days of the 16th century, after the upset of Martin Luther. As the librettist as well as composer, Pfitzner certainly moulds the truth to suit his own situation, and he backs up his artistic licence with some solemn, powerful and audaciously pastiche music, imbued with archaisms borrowed from Palestrina and his contemporaries. He adds to these Wagnerian motifs, such as the bells that symbolise the Catholic Church. Pfitzner portrays a composer who refuses to allow his music to be abused for bolstering the power of the Church. Palestrina's crisis, brought on by the loss of his office, his faith and his wife, as well as by the new style emanating from Florence, reflects the crisis of Pfitzner's own world in which art is needed only to preserve the existing order, not to seek out new horizons.

This dramatic opera was recorded live in the Schauspielhaus, Berlin, giving it a powerful sense of space and atmosphere. Otmar Suitner is a conductor of great experience and sympathy with the work, and the title role is played by Peter Schreier who "sings with great intelligence, deep expression and care for words, and with the slightly piercing, fundamentally German tenor sound for which the role was surely conceived" (Gramophone).
First performed in 1917 in Munich (conducted by Bruno Walter), Pfitzner's opera on the great 16th-century composer Palestrina became popular with those in German musical society who had become hostile to the direction which Schoenberg and Busoni had taken. Composed in "traditional" late romantic style it has a particularly Wagnerian flavour, a kind of catholic "Meistersinger" with hints of Palestrinian counterpoint and plainchant.
A superb cast in this exciting live recording from Berlin: Peter Schreier, Siegfried Lorenz, Rosemarie Lang and the Staatskapelle Berlin conducted by the great Otmar Suitner, a specialist in late romantic repertoire.
The libretto is available online at www.brilliantclassics.com, the booklet contains liner notes on the music.

Other information:
Recorded live in Berlin in 1986 and 1988.
Track list
Disk 1
Palestrina, WoO17: Prelude (orchestra)

Palestrina, WoO17, Pt. 1, Scene 1: Schönste, ungnäd'ge Dame (Silla)

Palestrina, WoO17, Pt. 1, Scene 2: Ighino! Gut, daß ich dich seh'! (Silla/Ighino)

Palestrina, WoO17, Pt. 1, Scene 3: Schönste, undnäd'ge Dame (Silla/Borromeo/Palestrina)

Palestrina, WoO17, Pt. 1, Scene 4: Der letzte Freund (Palestrina)

Palestrina, WoO17, Pt. 1, Scene 5 (beginning): Für Ihn! Sein Wesen will's (Palestrina/Masters)
Disk 2
Palestrina, WoO17, Pt. 1, Scene 5 (conclusion): Nicht ich – schwach bin ich (Palestrina/Masters)

Palestrina, WoO17, Pt. 1, Scene 6: Allein in dunkler Tiefe (Palestrina/Angels/Lucrezia)

Palestrina, WoO17, Pt. 1, Scene 7: Ighino, sieh doch, komm herein! (Silla/Ighino)

Palestrina, WoO17, Pt. 1: Prelude (orchestra)

Palestrina, WoO17, Pt. 2, Scene 1: Noch eine Bank! Und schnell! (Severolus/Novagerio/Servants)

Palestrina, WoO17, Pt. 2, Scene 2: Morone ist von Innsbruck schon herein? (Novagerio/Madruscht/Borromeo)

Palestrina, WoO17, Pt. 2, Scene 3: Ein liebreich würd'ger Herr (Borromeo/Novagerio)

Palestrina, WoO17, Pt. 2, Scene 4: Zahlreich wird heut' die heilige Versammlung (Cardinal of orraine/Madruscht/Novagerio)
Disk 3
Palestrina, WoO17, Pt. 2, Scene 5: Den Heil'gen Geist (Morone/Bishop of Budoja/ Spaniards and Italians/Severolus)

Palestrina, WoO17, Pt. 2, Scene 6: Was nun! Was nun! (Morone/Novagerio/Bishop of Budoja/ Cardinal of Lorraine)

Palestrina, WoO17, Pt. 2, Scene 7: Habt Ihr's gesehn? (Italian, German and Spanish servants/Madruscht)

Palestrina, WoO17, Pt. 3: Prelude (orchestra)

Palestrina, WoO17, Pt. 3, Scene 1: Wie lange sie bleiben (Choristers/Palestrina/Ighino)

Palestrina, WoO17, Pt. 3, Scene 2: Ist Palestrina, der Meister, hier? (Papal singers/Pope Pius IV/ Borromeo/Palestrina/Ighino)

Palestrina, WoO17, Pt. 3, Scene 3: Nun schmiede mich (Palestrina)