Bruckner: Complete Piano Music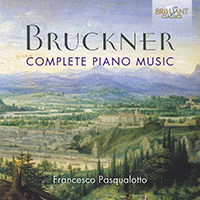 | | |
| --- | --- |
| Composer | Anton Bruckner |
| Artist | Francesco Pasqualotto piano |
| Format | 1 CD |
| Cat. number | 95619 |
| EAN code | 5028421956190 |
| Release | August 2019 |
About this release
A must for Brucknerians: a new album of almost unknown music by the Austrian symphonic genius, and a collection currently unrivalled on record.

You might expect that such music as Bruckner wrote for the piano was composed early in his career, which only took off in his forties after prolonged periods of study and personal setbacks. This is true to an extent: dating from 1850 – when Bruckner was already 26 years old – the earliest piece here is a Steiermärker, an Austrian dance of homely charm, and a quartet of lively quadrilles. But the bulk of his piano output dates from 1862, when Bruckner was on the verge of composing his first (unnumbered) symphony, but with a substantial catalogue of sacred music behind him.

Incense clouds and mountain vistas have no place here. There are several catchy polkas, minuets and waltzes: contrary to popular understanding, Bruckner was a keen and accomplished dancer, whose awkward manner in conversation was belied by his fine sense of rhythm. Some pieces here are more substantial: a seven-minute Sonata, for example, and poetic gems, full of intense feeling and personal reflections, such as Erinnerung and Stille Betrachtung an einem Herbstabend. A D minor March even seems to herald various passages in his later symphonies, where the brass was to play such an important role.

It's a winning collection that should surprise and delight anyone who thought exclusively of Bruckner as a composer of symphonic boa constrictors. The album is thoroughly annotated by its performer, Francesco Pasqualotto, who has dedicated himself to this under-rated corner of romantic piano repertoire with both enthusiasm and a technique refined by extensive performances of the more renowned piano music of Beethoven and György Ligeti.

Anton Bruckner (1824-1896) largely focused his creative efforts as a composer on large-scale symphonic works, choral works and the organ. Yet occasionally he composed for the piano, the main solo instrument of the Romantic Era, and it yielded some interesting works on a number of accounts.
Some piano works are real gems, full of intense feeling and personal reflections. Some are written in popular dance forms, mostly of Austrian origin (Quadrilles, Steiermärker), sometimes used in stylized form in his mighty symphonies. The other works consist of single movement Andantes, Fantasias and even two Etudes. Played with genuine affection and commitment by Francesco Pasqualotto, who also wrote the extensive liner notes.
Track list
Disk 1
4 Lancier – Quadrilles, WAB 120: I. Quadrille

4 Lancier – Quadrilles, WAB 120: II. Quadrille. Allegro

4 Lancier – Quadrilles, WAB 120: III. Quadrille. Allegro

4 Lancier – Quadrilles, WAB 120: IV. Quadrille. Allegro

Steiermärker in G Major, WAB 122

Klavierstück in E-Flat Major, WAB 119

Sonata in G Minor, WAB 245

Tema e variazioni in G Major

Andante in D Minor

Andante in E-Flat Major

Marcia in D Minor

Studio I in G Major

Studio II cromatico in F Major

Fantasia No. 1 in D Minor

Fantasia No. 2 in C Minor. Langsam

Fantasia No. 3 in E-Flat Major

Fantasia No. 4 in F Major. Langsam

Mazurka in A Minor

Stille Betrachtung an einem Herbstabend in F-Sharp Minor, WAB 123

Fantasia in G Major, WAB 118: I. Langsam un mit Gefühl. II. Allegro

Erinnerung in E-Flat Major, WAB 117: I. Langsam, innig

Valzer in C Major

Valzer in E-Flat Major

Polka in C Major

Minuetto in G Major

Minuetto in C Major

Esercizio in C Major

Duo in A Minor

Tema in F Major

Due periodi musicali in C Major

Marcia in C Major