D. & N.A. Strungk & P. Morhardt: Complete Organ Music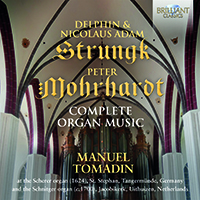 Download booklet
| | |
| --- | --- |
| Composer | Delphin Strungk, Nicolaus Adam Strungk, Peter Mohrhardt |
| Artist | Manuel Tomadin organ |
| Format | 2 CD |
| Cat. number | 95758 |
| EAN code | 5028421957586 |
| Release | September 2019 |
About this release
In this release we dive headfirst into 17th-century Northern Germany, a time of innovation and experimentation in music for the organ. As these imposing instruments were installed in cathedrals across Europe, the repertoire flourished. Three composers grace this set: Delphin Strungk, his son Nicolaus Adam Strungk and Peter Mohrhardt, and their musical output sheds light on the transition period between the Renaissance and Baroque eras.

Delphin Strungk opens the set with an organ arrangement of a motet by Orlando di Lasso, a pioneer of the polyphonic style. Strungk was a highly respected organist and took up several posts during his lifetime including one as the court organist in Celle. His performances won him international acclaim and academics from across the continent would come to hear him play. Magnificat noni toni was a favourite of Duke Rudolph Augustus, Prince of Brunswick-Wolfenbüttel, who often came to Braunschweig to watch him play. Strungk explores the potential of the instrument and uses special echo effects in several pieces. It's a technique also employed by Jan Pieterszoon Sweelinck, and it's possible Strungk was one of his pupils.

Peter Mohrhardt moved in the same musical circles as Strungk but fewer of his compositions have survived, all of which are included here. His pieces reflect the influence of Sweelinck and Scheidemann, including echo effects, for example. However his music is also forward-looking, and the arrangements feature a highly ornamented cantus firmus, while the chorale fantasias show off the virtuosity of the performer, typical of Baroque keyboard music.

Nicolaus Adam Strungk was active at the same time as Mohrhardt. As the son of Delphin Strungk, he grew up under the guidance of his father and was employed by various members of the nobility, later performing for the emperor Leopold I. As the most modern composer of the three, technological advancements in organ building, such as the introduction of tempered tunings, allowed the composer to experiment with new tonalities. Admired by J.S. Bach, Strungk was influenced by Arcangelo Corelli, whom he met in Rome in 1685. This was the same year that Strungk learned of the death of his mother, inspiring his Ricercar sopra la morte della mia carissima Madre, whose melancholy melody bears clear signs of the Italian master's influence.

This new recording presents three underestimated composers of the 17th century, a period of abundant experimentation in music. This was an era for innovation of organs, particular in Northern Germany where instruments of considerable size were being installed in important churches and cathedrals.
Another enterprising recording by Manuel Tomadin, one of the leading Italian organists of our day. He already made numerous recordings for Brilliant Classics, including works by Lübeck, Leyding, Kneller, Geist, Krebs, Alberti, the Husumer Orgelbuch and others.
Tomadin plays on two historic organs, the Arp Schnitger organ (ca. 1700) in Uithuizen and the Hans Scherer organ (ca. 1624) of St. Stephan in Tangermünde.
The booklet contains extensive liner notes on the composers as well as the disposition of the organs.
Listening
Track list
Disk 1
Delphin Strungk: Tibi laus tibi gloria: I. Prima pars

Delphin Strungk: Tibi laus tibi gloria: II. Secunda pars

Delphin Strungk: Lass mich dein sein und bleiben in A Minor

Delphin Strungk: Toccata ad manuale duplex

Delphin Strungk: Ecce Maria genuit nobis: I. Prima pars

Delphin Strungk: Ecce Maria genuit nobis: II. Secunda pars. Ecce agnus

Delphin Strungk: Ich hab mein Sach Gott heimgestellt

Delphin Strungk: Magnificat noni toni. Meine Seele erhebet den Herren in F Major: I. Primus versus. Pedaliter

Delphin Strungk: Magnificat noni toni. Meine Seele erhebet den Herren in F Major: II. Secundus versus

Delphin Strungk: Magnificat noni toni. Meine Seele erhebet den Herren in F Major: III. Tertius versus

Delphin Strungk: Verbum caro factum est

Delphin Strungk: Surrexit pastor bonus

Peter Mohrhardt: Kyrie summum: I. Kyrie

Peter Mohrhardt: Kyrie summum: II. Christe

Peter Mohrhardt: Kyrie summum: III. Kyrie
Disk 2
Peter Mohrhardt: Du Friedefürst, Herr Jesu Christ

Peter Mohrhardt: Gelobet seist du, Jesu Christ

Peter Mohrhardt: Was fürchtst du, Feind Herodes, sehr

Peter Mohrhardt: Alle Welt, was lebet und webet

Peter Mohrhardt: Allein zu dir, Herr Jesu Christ

Peter Mohrhardt: Meine Seele erhebet den Herren: I. Primus versus. Manibus solis – Secundum versus. ad manuale duplex cum ped.

Peter Mohrhardt: Wacht auf, ihr Christen alle

Peter Mohrhardt: Aus tiefer Not schrei ich zu dir

Peter Mohrhardt: Herr Gott, dich loben wir

Nicolaus Adam Strungk: Capriccio della Chiave di G b. in G Minor

Nicolaus Adam Strungk: Capriccio (II) della Chiave di A in A Minor

Nicolaus Adam Strungk: Capriccio della Chiave di E in E Minor

Nicolaus Adam Strungk: Capriccio della Chiave di F in F Major

Nicolaus Adam Strungk: Capriccio della Chiave di A in A Minor

Nicolaus Adam Strungk: Capriccio primi tuoni in D Minor

Nicolaus Adam Strungk: Ricercar sopra la morte della mia carissima madre, Catharina Maria Stubenrauen, morsa â Brunsviga il 28 d'augusto a[nn]o 1685

Nicolaus Adam Strungk: Capriccio sopra il corale "Ich dank Dir schon durch deinen Sohn"