Dalla Gostena: 25 Lute Fantasies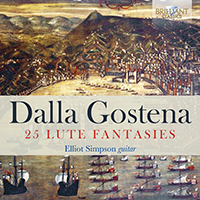 Download booklet
| | |
| --- | --- |
| Composer | Giovanni Battista Dalla Gostena |
| Artist | Elliot Simpson guitar |
| Format | 1 CD |
| Cat. number | 95944 |
| EAN code | 5028421959443 |
| Release | June 2019 |
About this release
A short-lived but prodigiously gifted Genovese musician of the 17th century rediscovered.

Better known now as the teacher of his nephew Simone Molinaro, one of the more important Italian composers of the post-Renaissance era, Giovanni Battista Dalla Gostena is worth knowing in his own right. Born early in the 1540s in Genova, he studied with the renowned Flemish polyphonist Philippe de Monte, composer to the Viennese court of Maximilian II, and he followed de Monte's example by composing several volumes of sacred and secular vocal music during the 1570s and 80s before he was apparently murdered in 1593 (there are also records of a funeral Mass held for him five years later).

It is through his nephew that we now know Dalla Gostena best, through this volume of lute fantasias posthumously published by Molinaro, and in affecting tribute to the memory of his uncle. A leading figure in the musical life of his home city, Dalla Gostena wrote in a conservative but beautifully wrought style. These fantasias make extraordinary demands upon the performer, due in no small part
to the complex polyphony borrowed from his madrigals and masses. They belong to the repertoire of every skilled lutenist but they are very rarely recorded as a collection, making Elliott Simpson's new album an essential acquisition for collectors of Renaissance music on record. Born in 1987, this American guitarist has worked with leading composers of our own time such as Sofia Gubaidulina, Alvin Lucier and Michael Finnissy, but he also has an abiding interest in and thorough understanding of the Renaissance-era music which establishes the underlying elements and principles of modern guitar repertoire.

Giovanni Battista Dalla Gostena (1540-1593) was born in Genoa, Italy. He was a pupil of the renowned Flemish composer Philippe de Monte. He held the prestigious post of Maestro di Cappella at the San Lorenzo Cathedral in his native Genoa. He composed and published several sets of vocal madrigals.
Gostena's 25 Lute Fantasies were published in Venice in 1599. The fantasies show evidence of profound instrumental knowledge and make extraordinary demands upon the performer, due in no small part to the complex polyphony borrowed from contemporaneous vocal and keyboard genres.
Elliot Simpson (born 1987) is one of the foremost lute players of the young generation. Recipient of the prestigious Huygens Grant from the Dutch government for his "extraordinary contribution to new music" he has given premieres of works by Gubaidulina, Finnissy, Zimmermann and Polansky.
Listening
Track list
Disk 1
Giovanni Battista Dalla Gostena: Fantasy I

Giovanni Battista Dalla Gostena: Fantasy II

Giovanni Battista Dalla Gostena: Fantasy III

Giovanni Battista Dalla Gostena: Fantasy IV

Giovanni Battista Dalla Gostena: Fantasy V

Giovanni Battista Dalla Gostena: Fantasy VI

Giovanni Battista Dalla Gostena: Fantasy VII

Giovanni Battista Dalla Gostena: Fantasy VIII

Giovanni Battista Dalla Gostena: Fantasy IX

Giovanni Battista Dalla Gostena: Fantasy X

Giovanni Battista Dalla Gostena: Fantasy XI

Giovanni Battista Dalla Gostena: Fantasy XII

Giovanni Battista Dalla Gostena: Fantasy XIII

Giovanni Battista Dalla Gostena: Fantasy XIV

Giovanni Battista Dalla Gostena: Fantasy XV

Giovanni Battista Dalla Gostena: Fantasy XVI

Giovanni Battista Dalla Gostena: Fantasy XVII

Giovanni Battista Dalla Gostena: Fantasy XVIII

Giovanni Battista Dalla Gostena: Fantasy XIX

Giovanni Battista Dalla Gostena: Fantasy XX

Giovanni Battista Dalla Gostena: Fantasy XXI

Giovanni Battista Dalla Gostena: Fantasy XXII

Giovanni Battista Dalla Gostena: Fantasy XXIII

Giovanni Battista Dalla Gostena: Fantasy XXIV

Giovanni Battista Dalla Gostena: Fantasy XXV