Debussy: Musique de scène, Chansons de Bilitis-La Flute de Pan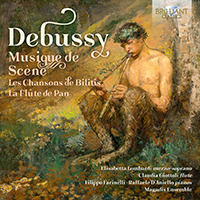 Download booklet
Composer
Claude Debussy
Artist
Filippo Farinelli piano
Claudia Giottoli flute
Elisabetta Lombardi mezzo-soprano
Raffaele D'Aniello piano
Magadis Ensemble
Format
1 CD
Cat. number
95678
EAN code
5028421956787
Release
February 2019
About this release
After setting three of his friend Pierre Louÿs's 1894 prose poems in Les Chansons de Bilitis, Debussy was asked by him to provide incidental music for a mimed recitation of another 12 poems. A single performance was given on 7 February 1901, after rehearsals of which Louÿs wrote: 'I'm spending every afternoon with naked women. It's nice.'

The poems were spoofs on those by Sappho, supposedly a friend of the non-existent Bilitis, and a review praised the music as 'ingeniously archaic'. Debussy's scoring evokes the imagined sound of ancient Greece: the two flutes represent the aulos, associated with satyrs and the Dionysian cult; and the two harps speak for the kythara, associated with Apollo. Interwoven with the music is the bright sound of the celesta, the metal instrument patented by Auguste Mustel in 1886 that constitutes a meeting point between the Apollonian and the Dionysian. The missing celesta part of the incidental music, no doubt taken by Debussy himself, was recreated by Arthur Hoérée. In 1914 Debussy reworked passages of the music in his Épigraphes antiques for piano duet.

Although the Chansons and the Epigraphes have often been recorded, they are very rarely recorded together with the incidental music, making this new album a uniquely cohesive and attractive album presenting Debussy at his most sensuous and Orientalist. There is a postlude to the album which continues its theme with Syrinx for solo flute, Debussy's dreamy evocation of the god Pan that also had its origins in music for the stage.

Distinguished Italian musicians have joined forces to form the Magadis Ensemble. The ensemble's flexible line-up and wide repertoire focuses on vocal and instrumental chamber music by 20th- and 21st-century composers such as Debussy, Ravel, Dallapiccola and Scelsi.

This fascinating CD brings together the works that Claude Debussy wrote on texts by his friend, the poet Pierre Louÿs: the Chansons de Bilitis.
Louÿs claimed that the poems were translations from the ancient Greek, a falsification as they were entirely his own.. The poems are in the manner of Sappho and deal with the erotically charged world of nymphs, fauns, naiades, shepherds and ancient greek gods.
This new recordings presents the three songs for voice and piano Chansons de Bilitis, as well as the complete "musique de scène pour accompagner la récitation avec tableaux vivents da 12 poèmes de Pierre Louÿs (1903)" for voice, 2 flutes, 2 harps and celesta. Also included are the "Six Épigraphes antiques" for piano 4 hands (its titles deriving from Louýs' poetry) and the famous La flute de Pan for flute solo.
Beautifully performed by Elisabetta Lombardi (mezzo soprano), Claudia Giottoli (flute) and Filippo Farinelli (piano).
Listening
Track list
Disk 1
Claude Debussy: Chansons de Bilitis, L. 90: I. La flûte de pan

Claude Debussy: Chansons de Bilitis, L. 90: II. La chevelure

Claude Debussy: Chansons de Bilitis, L. 90: III. Le tombeau des naïades

Claude Debussy: Musique de scène pour les chansons de bilits: I. Chant pastoral

Claude Debussy: Musique de scène pour les chansons de bilits: II. Les comparaisons

Claude Debussy: Musique de scène pour les chansons de bilits: III. Les contes

Claude Debussy: Musique de scène pour les chansons de bilits: IV. Chanson

Claude Debussy: Musique de scène pour les chansons de bilits: V. La partie d'osselets

Claude Debussy: Musique de scène pour les chansons de bilits: VI. Bilitis

Claude Debussy: Musique de scène pour les chansons de bilits: VII. Le tombeau sans nom

Claude Debussy: Musique de scène pour les chansons de bilits: VIII. Les courtisanes égyptiennes

Claude Debussy: Musique de scène pour les chansons de bilits: IX. L'eau pure du basin

Claude Debussy: Musique de scène pour les chansons de bilits: X. La danseuse aux crotales

Claude Debussy: Musique de scène pour les chansons de bilits: XI. Le souvenir de mnasidica

Claude Debussy: Musique de scène pour les chansons de bilits: XII. La pluie au matin

Claude Debussy: Six épigraphes antiques, L. 131: I. Pour invoquer pan, dieu du vent d'été

Claude Debussy: Six épigraphes antiques, L. 131: II. Pour un tombeau sans nom

Claude Debussy: Six épigraphes antiques, L. 131: III. Pour que la nuit soit propice

Claude Debussy: Six épigraphes antiques, L. 131: IV. Pour la danseuse aux crotales

Claude Debussy: Six épigraphes antiques, L. 131: V. Pour l'égyptienne

Claude Debussy: Six épigraphes antiques, L. 131: VI. Pour remercier la pluie au matin

Claude Debussy: La flûte de pan