English Guitar Music of the 20th Century, Berkeley, Britten, Scott & Walton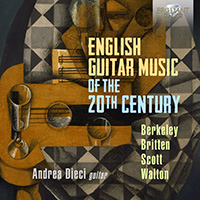 Download booklet
| | |
| --- | --- |
| Composer | Benjamin Britten, Cyril Scott, Lennox Berkeley, William Walton |
| Artist | Andrea Dieci guitar |
| Format | 1 CD |
| Cat. number | 95937 |
| EAN code | 5028421959375 |
| Release | April 2021 |
About this release
It's easy to identify the classical guitar with Spanish repertoire. After all, Andrés Segovia, who revived the fortunes of the instrument in the early decades of the 20th century after long neglect, was a Spaniard. This does not do justice, however, to the major contribution made to 20th-century guitar repertoire by a number of national schools, among which the United Kingdom's is particularly outstanding for the quantity and quality of the pieces. This album offers a significant sample of music for solo guitar by four important composers: Cyril Scott, Lennox Berkeley, Benjamin Britten and William Walton.

Despite being relatively unfamiliar to the wider public, the figure of Cyril Scott (1879–1970) is one of real interest. Having trained in England and in Germany, Scott was a truly gifted pianist and enjoyed the friendship and esteem of composers such as Ravel and Debussy. Though it was written in 1927, Scott's Sonatina has only entered the repertoire of today's guitarists in recent years. Its solid compositional mastery gives rise to a beauty at once enigmatic and captivating.

Lennox Berkeley's (1903–1989) compositions for the guitar span almost half a century and are a faithful record of his stylistic evolution. Between 1927 and 1932 Berkeley studied in Paris with Nadia Boulanger, and these were triumphant years for Segovia, who had made his debut in the French capital in 1924, inspiring widespread and lasting admiration. Berkeley was captivated and dedicated his 4 Pièces pour la guitare to him, a sparkling collection in spirit very close to the style of composers such as Albert Roussel and Francis Poulenc. It would be some 30 years before the composer returned to the guitar in 1957, thanks to the interest of the young British virtuoso Julian Bream. Berkeley's Sonatina Op.52/1 is a work of captivating freshness. The Theme and Variations Op.77, commissioned in 1970 by Angelo Gilardino and composed during a period of loosening ties to tonality, is incisive, epigrammatic and aphoristic throughout, reflecting Berkeley's interest in traditional Chinese poetry.

The Nocturnal after John Dowland Op.70 (1963) by Benjamin Britten (1913–1976) is also a theme and variations, but rather than present the theme and develop it with variations, Britten inverts the form, revealing the theme only at the very end of the piece after it is gradually unveiled in fragments of a musical mosaic cleverly scattered across the preceding variations.

The irreverent japes of William Walton's (1902–1983) Façade for speaker and instrumental sextet, which in 1922/3 marked the composer's's debut as an enfant terrible, soon gave way to a late-Romantic style closer to Bax and Vaughan Williams, yet Walton's irony did not disappear. Rather it was transmuted into an urbane wit, traces of which are found, for example, in the cycle Anon in Love for tenor and guitar, written in 1959 for the duo of Peter Pears and Bream. When Bream asked Walton to try his hand at writing for solo guitar, the composer responded from his retreat on the island of Ischia with the celebrated Five Bagatelles (1970/1), a very strong and imaginative example of compositional craftsmanship.

These pieces for solo guitar by Scott, Berkeley, Britten and Walton have left a permanent mark on the guitaristic landscape, expanding it to territory then unfamiliar in the prevailing aesthetic canon of Segovia. If the 20th century was the golden age in which the guitar repertoire rose to the level of that of other instruments, much of that is due to these composers.

Recorded July 2020 in Gorla Minore (Lombardy), Italy
The bilingual booklet contains liner notes, in English and Italian, written by musicologist and classical guitarist Leonardo De Marchi, and a biography of the artist
Identifying the classical guitar with Spanish repertoire is a commonplace that is widely encountered. However, some major contributions to the guitar repertoire in the 20th century were made by a number of national schools, outstanding among which – for the quantity as well as quality of the pieces – is that of the United Kingdom. This album offers a significant sample, presenting music for solo guitar by four important composers: Cyril Scott, Lennox Berkeley, Benjamin Britten and William Walton.
Each of these four composers, though stylistically very different, took the guitar out of the salonesque environment of prettiness and quasi-exotic couleur locale and raised it to the level of other prominent concert instruments, the music being rich, challenging and holding an important place in their oeuvre.
Played by Andrea Dieci, "A true star of the classical guitar" (Corriere della sera), one of the most notable guitarists of his generation. He successfully recorded for Brilliant Classics music by Henze, Takemitsu, Sor, Piazzolla, Giuliani and others.
Listening
Track list
Disk 1
Lennox Berkeley: Quatre pièces pour la guitare: I. Moderato ma con brio

Lennox Berkeley: Quatre pièces pour la guitare: II. Andante con moto

Lennox Berkeley: Quatre pièces pour la guitare: III. Lento

Lennox Berkeley: Quatre pièces pour la guitare: IV. Allegro, energico

Cyril Scott: Sonatina for Guitar: I. Adagio, quasi introduzione – Molto moderato

Cyril Scott: Sonatina for Guitar: II. Allegretto pensoso

Cyril Scott: Sonatina for Guitar: III. Finale. Allegro

Lennox Berkeley: Sonatina for Guitar Op. 52/1: I. Allegretto

Lennox Berkeley: Sonatina for Guitar Op. 52/1: II. Lento

Lennox Berkeley: Sonatina for Guitar Op. 52/1: III. Rondo. Allegro non troppo

Benjamin Britten: Nocturnal after John Dowland for Guitar, Op. 70: I. Musingly

Benjamin Britten: Nocturnal after John Dowland for Guitar, Op. 70: II. Very agitated

Benjamin Britten: Nocturnal after John Dowland for Guitar, Op. 70: III. Restless

Benjamin Britten: Nocturnal after John Dowland for Guitar, Op. 70: IV. Uneasy

Benjamin Britten: Nocturnal after John Dowland for Guitar, Op. 70: V. March-like

Benjamin Britten: Nocturnal after John Dowland for Guitar, Op. 70: VI. Dreaming

Benjamin Britten: Nocturnal after John Dowland for Guitar, Op. 70: VII. Gently Rocking

Benjamin Britten: Nocturnal after John Dowland for Guitar, Op. 70: VIII. Passacaglia

Benjamin Britten: Nocturnal after John Dowland for Guitar, Op. 70: Slow and Quiet

Lennox Berkeley: Theme and Variations for Guitar, Op. 77: I. Theme. Moderato

Lennox Berkeley: Theme and Variations for Guitar, Op. 77: II. Variazione I. Allegro

Lennox Berkeley: Theme and Variations for Guitar, Op. 77: III. Variazione II. Allegretto

Lennox Berkeley: Theme and Variations for Guitar, Op. 77: IV. Variazione III. Lento

Lennox Berkeley: Theme and Variations for Guitar, Op. 77: V. Variazione IV. Andante

Lennox Berkeley: Theme and Variations for Guitar, Op. 77: VI. Variazione V. Allegro

Lennox Berkeley: Theme and Variations for Guitar, Op. 77: VII. Variazione VI. (Epilogue). Lento

William Turner Walton: 5 Bagatelles for Guitar: I. Allegro

William Turner Walton: 5 Bagatelles for Guitar: II. Lento

William Turner Walton: 5 Bagatelles for Guitar: III. Alla Cubana

William Turner Walton: 5 Bagatelles for Guitar: IV. —

William Turner Walton: 5 Bagatelles for Guitar: V. Con slancio