Fuchs: Clarinet Chamber Music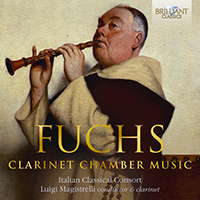 Composer
Robert Fuchs
Artist
Italian Classical Consort
Luigi Magistrelli conductor & clarinet
Format
1 CD
Cat. number
96305
EAN code
5028421963051
Release
August 2021
About this release
Where next after Mozart's Clarinet Quintet? Try these duos and trios by Georg Friedrich Fuchs (1752-1821) in newly recorded period-instrument performances. Born in the German city of Mainz in 1752, Fuchs was a pupil of Haydn's before becoming a wind-band leader and composer. Aged 32, however, he moved to Paris, and established his name there, teaching at the conservatoire and composing for many French publishers with an eye to the fast-developing market for attractive music for winds, especially the clarinet, accessible to amateurs.

His experience as a working musician in the French National Guard prompted him to produce Harmoniemusik – wind-band music – for various combinations of such instruments, without stringaccompaniment, as the duos and trios found on this album. There is also a brief Pot Pourri on arias of Paisiello conceived for the unusual combination four clarinets, two horns and two bassoons. Between 1803 and 1805 he produced six trios for three clarinets, and Luigi Magistrelli has chosen to record three of them, along with Fuchs's ingenious arrangements of six arias from Mozart's Magic Flute, which weave melody and accompaniment between the two instruments, producing pieces satisfying to both play and listen to on their own terms.
As a clarinettist and ensemble leader, Luigi Magistrelli has built up a considerable Brilliant Classics discography of lesser-known repertoire from the Classical and early Romantic eras. Most of
his albums feature first recordings, and he is joined by Italian colleagues who have equally extensive experience in historically informed performances (using instruments of the time, often returning to the original manuscripts) of 18th- and 19th-century music.

'Luigi Magistrelli is a skilled artist, with the fingers and the enthusiasm for Weber.' Gramophone

'Light, pleasing music with here and there a touch of wit, poignancy and - buffo humour... Many of the slow movements have poetic feeling and intensity... The timbres are consistently refreshing to the ear, with good recorded sound.' (Fanfare on CPE Bach, 95307)

· Georg Friedrich Fuchs was a German composer and conductor. He learned to play clarinet, bassoon, and French horn and later studied with Franz Joseph Haydn. He played clarinet in several military bands and eventually rose to the position of leader of the band at Zweibrucken. He went to Paris in 1784 and joined the band of the Garde Nationale. He taught at the Paris Conservatory from its founding. His primary output was music for band and instrumental chamber groups.
· This new recording presents chamber music in which the clarinet plays the main role: a Trio for three clarinets, a duo for clarinet and horn, a trio for two clarinets and bassoon, a trio for two clarinets and violin and a duo for two clarinets. Delightful music, full of charm and wit, expertly and brilliantly written for the instruments.
Played by the Italian Classical Consort, led by clarinetist Luigi Magistrelli, who already successfully recorded several CDs for Brilliant Classics with music by Kummer, Rebay, Archduke Rudolph, C.P.E. Bach and Giuliani.
Listening
Track list
Disk 1
Robert Fuchs: Trio No. 3 for 3 Clarinets: I. Allegro

Robert Fuchs: Trio No. 3 for 3 Clarinets: II. Andante con variazioni

Robert Fuchs: Trio No. 3 for 3 Clarinets: III. Rondo allegretto

Robert Fuchs: Duo Op. 5 for Clarinet and Horn: I. Allegro moderato

Robert Fuchs: Duo Op. 5 for Clarinet and Horn: II. Andante grazioso con variazioni

Robert Fuchs: Duo Op. 5 for Clarinet and Horn: III. Menuetto allegretto

Robert Fuchs: Duo Op. 5 for Clarinet and Horn: IV. Rondo allegretto

Robert Fuchs: Trio No. 5 for 2 Clarinets and Bassoon: I. Allegro

Robert Fuchs: Trio No. 5 for 2 Clarinets and Bassoon: II. Arioso lento

Robert Fuchs: Trio No. 5 for 2 Clarinets and Bassoon: III. Presto

Robert Fuchs: 6 Arias from die Zauberflöte of W.A. Mozart for 2 Clarinets: I. Der Vogelfänger bin ich ja

Robert Fuchs: 6 Arias from die Zauberflöte of W.A. Mozart for 2 Clarinets: II. Du feines Täubchen, nur herein!

Robert Fuchs: 6 Arias from die Zauberflöte of W.A. Mozart for 2 Clarinets: III. Bei Männer, welche Liebe fuhlen

Robert Fuchs: 6 Arias from die Zauberflöte of W.A. Mozart for 2 Clarinets: IV. Wie stark ist nicht dein Zauberton!

Robert Fuchs: 6 Arias from die Zauberflöte of W.A. Mozart for 2 Clarinets: V. Schelle Fusse, rauscher Mut

Robert Fuchs: 6 Arias from die Zauberflöte of W.A. Mozart for 2 Clarinets: VI. Alles fühlt der lieben Freuden

Robert Fuchs: Potpourri on Arias of Paisiello for 4 Clarinets, 2 Bassoons & 2 Horns Air di Nina, Air des Noces de Dorine

Robert Fuchs: Trio No. 2 for 2 Clarinets and Violin: I. Allegro

Robert Fuchs: Trio No. 2 for 2 Clarinets and Violin: II. Adagio

Robert Fuchs: Trio No. 2 for 2 Clarinets and Violin: III. Rondo allegro