Heinrich & Carl Baermann: Music for Clarinet and Piano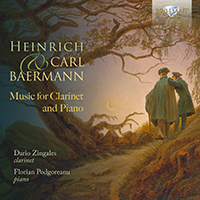 Download booklet
Composer
Carl Baermann, Heinrich Baermann
Artist
Dario Zingales clarinet
Florian Podgoreanu piano
Format
1 CD
Cat. number
95785
EAN code
5028421957852
Release
November 2018
About this release
Heinrich and his son Carl Baermann count among the most accomplished clarinettists of the Romantic age. Many composers wrote for Heinrich, most notably Carl Maria von Weber, who composed his two concertos and chamber works with Heinrich in mind, impressed as he was by his 'homogeneity of tone from top to bottom'. Mendelssohn and Meyerbeer were among others who wrote for this 'Rubini of the clarinet', as he was known at the time.

His son Carl was less talented as a soloist, though he accompanied his father on concert-tours playing the basset horn, and he turned both to teaching and to instrument-making: in 1860 he produced an 18-keyed Müller-type clarinet, which found favour with many players, including Richard Mühlfeld, for whom Brahms wrote several celebrated late works such as two sonatas and the Clarinet Quintet.

Carl's own compositions run to 88 opus numbers in all, of which three are played here by the young Italian clarinettist Dario Zingales: two evocative tone-poems and the early but more extensive and demanding Fantasie brillante Op.7. These world premiere recordings are complemented by Carl's arrangements of six Schubert Lieder, including the evergreen Ave Maria, Gretchen am Spinnrade and Ständchen, in which the vocal line transfers beautifully to the solo instrument.

Heinrich's own music is even less known but no less rewarding for collectors of little- known Romantic chamber music. Still unpublished, the Nocturne in F minor is as melodically memorable as it is superbly written for Baermann's own instrument. Dario Zingales presents its first recording here, as he does the Introduktion und Polonaise Op.25 and the sparkling Air Varié Op.12 No.2. With invaluable booklet notes contributed by Zingales himself, this album will also be a valuable acquisition for all clarinettists looking for new repertoire.

Heinrich and Carl Baermann, father and son, count among the most famous and influential clarinet players of music history. Heinrich Baermann (1784-1847) was solo clarinet player at the court of Prince Ferdinand, later he moved to the court of Munich of King Maximilian, which boasted one of the best orchestras of the time. His son Carl (1810-1885) succeeded him. Carl wrote the "Vollständige Clarinett Schule", a 5-volume treatise and teaching manual, still considered to be the basis of clarinet playing and teaching.
Both father and son Baermann composed extensively for their instrument, and this new recording presents their works, highly accomplished music bringing out all the qualities of their beloved reed instrument the clarinet.
Wonderful performance by Italian clarinet player Dario Zingales, sought-after soloist, a member of the famous Bläserphilharmonie Mozarteum, and teacher at the Mozarteum Salzburg.
Listening
Track list
Disk 1
Heinrich Baermann: Notturno in F Minor

Carl Baermann: Verlorenes Glück, Op. 30

Heinrich Baermann: Introduktion und Polonaise, Op. 25

Carl Baermann: 6 Lieder: I. Der Neugierige

Carl Baermann: 6 Lieder: II. Wohin?

Carl Baermann: 6 Lieder: III. Ave Maria

Carl Baermann: 6 Lieder: IV. Lob der Tränen

Carl Baermann: 6 Lieder: V. Gretchen am Spinnrade

Carl Baermann: 6 Lieder: VI. Ständchen

Heinrich Baermann: Air varié No. 2, Op. 12

Carl Baermann: Die kleine Bettlerin, Op. 14

Carl Baermann: Fantasie brillante, Op. 7