Küffner: Serenades for Guitar, Flute & Viola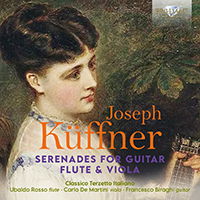 Composer
Joseph Küffner
Artist
Classico Terzetto Italiano
Ubaldo Rosso flute
Carlo De Martini viola
Francesco Biraghi guitar
Format
1 CD
Cat. number
96319
EAN code
5028421963198
Release
July 2021
About this release
The first album dedicated to a Bavarian contemporary of Schubert, featuring a trio of easy-on-the-ear serenades in new recordings, played by an experienced Italian ensemble with a track record of success in reviving forgotten corners of 19th-century salon music.
Joseph Küffner (1776-1856) trained as a lawyer but studied the guitar and violin in his spare time. No ordinary 'amateur' musician, he performed concertos by Viotti and Mestrino in public, and in due course became a teacher of those instruments, then a regimental band leader; by the age of 30 he was a court musician for Archduke Ferdinand. Two years later, in 1808, his own music was first published – a set of dances for violin and guitar – but many of his surviving pieces remain in manuscript, including seven symphonies.
Most of Küffner's music, however, was composed for his own instruments, and tailored with an eye and ear to a lucrative domestic audience. Some 25 pieces are scored for the combination of flute, viola and guitar heard on this new album, most of them serenades, fantasies or pot-pourris, all unfailingly well-crafted and cheerful in temperament. Having read through most of them, the Classico Terzetto Italiano has to record three of the most delightful. Op.4 is, unusually, cast in a minor key, though hardly tragic in mood. Op.10 is dedicated to the Grand Duke of Würzburg: a tribute from one military man to another, and quoting a march from a then-popular opera, Kreutzer's Lodoïska. Op.15 includes a witty minuet and what sounds like a homage to Mozart closing with a virtuosic Galop which tests the guitarist's technique with its brilliant figuration.
Formed in 2005, the Classico Terzetto Italiano comprises Ubaldo Rosso (flute), Carlo De Martini (viola) and Francesco Biraghi (guitar), all of them experienced chamber musicians and professors, whose pleasure in making music together is demonstrated by their specialism in entertainment music by the likes of Küffner and Carulli.

Joseph Küffner was born in the Franconian-Bavarian city of Würzburg where his father was the court music director. Küffner studied violin and served as a member of the Ducal Orchestra as well as a soloist. Besides the violin, he was proficient on the harpsichord, piano, organ, clarinet, basset horn and guitar. He later was appointed Military Music Director of Bavaria. His works for military band were so well thought of that for several decades the Armies of the Bavaria marched to his music. He wrote over 300 works in all genres, of which the bulk were for chamber ensembles and which were extraordinarily popular during his lifetime.
Küffner's works for guitar, flute and viola - often entitled Serenade - number at least twenty-five. They have either three or four movements or are set in the form of a fantasy or a pot-pourri. This corpus of trios no doubt belongs to the most prominent chamber music of the entire guitar repertoire: delightful, charming and cheerful music, full of good tunes and popular dance forms.
Played by the Classico Terzetto Italiano, founded in 2005 by Ubaldo Rosso, Carlo De Martini and Francesco Biraghi, specializing in works for this unusual combination of instruments.
Listening
Track list
Disk 1
Joseph Küffner: Sérénade pour guitare, flûte et alto, Op. 4: I. Allegro

Joseph Küffner: Sérénade pour guitare, flûte et alto, Op. 4: II. Andante con moto

Joseph Küffner: Sérénade pour guitare, flûte et alto, Op. 4: III. Minuetto, allegro vivace

Joseph Küffner: Sérénade pour guitare, flûte et alto, Op. 4: IV. Rondò, scherzando

Joseph Küffner: Sérénade pour guitare, flûte et alto, Op. 10: I. Allegro

Joseph Küffner: Sérénade pour guitare, flûte et alto, Op. 10: II. Andante

Joseph Küffner: Sérénade pour guitare, flûte et alto, Op. 10: III. Rondò

Joseph Küffner: Sérénade pour guitare, flûte et alto, Op. 15: I. Allegro moderato

Joseph Küffner: Sérénade pour guitare, flûte et alto, Op. 15: II. Menuetto, allegretto

Joseph Küffner: Sérénade pour guitare, flûte et alto, Op. 15: III. Andante

Joseph Küffner: Sérénade pour guitare, flûte et alto, Op. 15: IV. Rondò