Loevendie and Bosgraaf: Nachklang, Reflex, Dance, Improvisations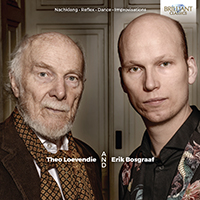 Download booklet
Composer
Theo Loevendie
Artist
Erik Bosgraaf recorders
Theo Loevendie piano
Format
1 CD
Cat. number
95906
EAN code
5028421959061
Release
November 2018
About this release
An appealing new recording of modern, tuneful works for recorder.

This album celebrates the friendship between Theo Loevendie (b1930) and Erik Bosgraaf (b1980). Having written a part for the recorder virtuoso in his opera about the life and times of the philosopher Spinoza, Loevendie has proceeded to compose several other works which marry the Baroque idiom of the recorder's natural home with his own, jazz-inflected idiom. Most notable among them is the recorder concerto Nachklang, dedicated to Bosgraaf like several other works on the album. Bach's Brandenburg Concerto no. 3 is the origin of a sparkling composition for recorder, three violins, three violas, three cellos, double bass and harpsichord.

Both musicians celebrate music as a vital, living language, both of them have an affinity with improvisation; Loevendie's musical roots lie in the jazz tradition, and the freewheeling nature of their partnership can be sampled live in an Amsterdam cafe where they regularly play jam sessions together with the violinist Oene van Geel. For this recording Loevendie, Bosgraaf and Van Geel headed for the studio, which resulted in four improvisations, each based on a passacaglia theme.

Having been the intended soloist for Nachklang, Bosgraaf commissioned the solo Reflex from Loevendie, and this too works
outwards from lively Baroque-era rhythmic impulses. Dance for Three is a composition which, in its original form for violin, dates from 1986. It is one of Loevendie's most frequently heard pieces. The player wears an ankle bracelet of bells and stamps a percussion accompaniment to her violin. Parts have since been added for clarinet and then, at Bosgraaf's behest, for recorder.

This album is the embodiment of a unique friendship between an elderly composer and a recorder player exactly 50 years his junior, Theo Loevendie (1930) and Erik Bosgraaf (1980). The two clicked right away, both musically and personally. Both celebrate music as a vital, living language, both have an affinity for improvisation and jazz, both live in a musical universe which defies categorization.
This new recording presents the first recording of Nachklang, a concerto for recorder and baroque orchestra. Furthermore a Dance for Three for violin, clarinet and recorder, as well as several improvisations and recorder solos.
A fascinating program of new music by one of The Netherland's most interesting composers, played by the most adventurous and groundbreaking recorder players of the moment!
Listening
Track list
Disk 1
Theo Loevendie: Nachklang: I. Maestoso – Allegro – Maestoso

Theo Loevendie: Nachklang: II. Lento

Theo Loevendie: Nachklang: III. Presto

Theo Loevendie: Improvisation I

Theo Loevendie: Reflex

Theo Loevendie: Improvisation II

Theo Loevendie: Dance for Three

Theo Loevendie: Improvisation III

Theo Loevendie: Prins Robberts Masco

Theo Loevendie: Improvisation IV