Moreno-Torroba: Complete Music for Solo Guitar & Guitar Quartets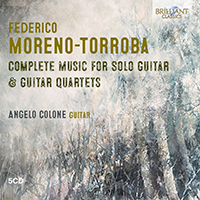 Download booklet
| | |
| --- | --- |
| Composer | Federico Moreno-Torroba |
| Artist | Angelo Colone guitar |
| Format | 5 CD |
| Cat. number | 95343 |
| EAN code | 5028421953434 |
| Release | November 2019 |
About this release
Although not a guitarist himself, Federico Moreno-Torroba struck up a friendship with Andres Segovia in the 1920s, which in turn inspired several of his finest works such as the Sonatina (1924) and Piezas características (1931) are among his finest works.

Born in Madrid in 1891, Moreno Torroba was a major figure in Spanish music of the last century, flourishing in spite of the political and social upheavals that surrounded him. His music has been described as 'castizo', employing elements of folk and art music which are of a distinctly Spanish character. His works for the guitar above all others display a fidelity to Spain's heritage, but his musical palette was not limited to strict folklorism, owing something to the music of Debussy, Ravel, Franck, Wagner and, in later years, Bartók. The Puertas de Madrid and the Suite Castellana translate the people and landscapes of Spain into evocative tone-poems, but there is a great deal of no less attractive, typically Spanish writing in apparently abstract works such as the collection of Eight Preludes. Like his long-lived contemporary Joaquin Rodrigo, Moreno-Torroba builds a bridge between landscape and soundscape.

The Sonatina is a modern classic of the guitar repertoire, but many pieces on this comprehensive collection are hardly known and currently unavailable in the record catalogues such as the four Rafagas on CD2, composed for guitar quartet. The collection closes with Moreno Torroba's most extensive guitar work, the boldly formed and reflective Sonata-Fantasia, written in the tradition of similar works for piano by Chopin and Scriabin.

The Italian guitarist Angelo Colone has won particular acclaim for his performances and recordings of music by his countrymen such as Gilardino and Petrassi, but he is also an accomplished advocate for the works of Spanish and Latin American composers. Having recorded this unique collection between 2016 and 2019, he also contributes a booklet essay full of personal insight into the world of Moreno Torroba.

Federico Moreno-Torroba (1891-1982) was one of the leading musical figures of 20th century Spain. He was active as a composer, conductor, critic and successful impresario, and he was president of the "Societad general de autores españoles".
Although Moreno-Torroba wrote in many musical genres he is mostly famous for his guitar works. His encounter and ultimate friendship with the great guitarist Andres Segovia inspired him to write a substantial oeuvre for the guitar, Spain's national instrument.
Angelo Gilardino said of Moreno-Torroba's works: "his music is largely inspired by the Spanish landscape, especially that of Castilia, he has created a bridge between landscape and soundscape".
Performed with great warmth and feeling for the idiom by Angelo Colone, one of the leading Italian guitarists and student of the legendary Alirio Diaz.
Listening
Track list
Disk 1
Federico Moreno-Torroba: Sonatina in A Major: I. Allegro

Federico Moreno-Torroba: Sonatina in A Major: II. Andante

Federico Moreno-Torroba: Sonatina in A Major: III. Allegro

Federico Moreno-Torroba: Sonatina in A Major: IV. Nana

Federico Moreno-Torroba: Puertas de Madrid: I. Puerta de Toledo

Federico Moreno-Torroba: Puertas de Madrid: II. Puerta de Alcalá

Federico Moreno-Torroba: Puertas de Madrid: III. Puerta de San Vicente

Federico Moreno-Torroba: Puertas de Madrid: IV. Puerta de Hierro

Federico Moreno-Torroba: Puertas de Madrid: V. Puerta de Moros

Federico Moreno-Torroba: Puertas de Madrid: VI. Puerta cerrada

Federico Moreno-Torroba: Puertas de Madrid: VII. Puerta del Angel

Federico Moreno-Torroba: Nostalgia

Federico Moreno-Torroba: Improvvisando

Federico Moreno-Torroba: Sonatina y variación in E Minor

Federico Moreno-Torroba: Estampas: I. Bailando un fandango charro

Federico Moreno-Torroba: Estampas: II. Remanso

Federico Moreno-Torroba: Estampas: III. La siege

Federico Moreno-Torroba: Estampas: IV. Fiesta en el pueblo

Federico Moreno-Torroba: Estampas: V. Amanacer

Federico Moreno-Torroba: Estampas: VI. La boda

Federico Moreno-Torroba: Estampas: VII. Camino del Molino

Federico Moreno-Torroba: Estampas: VIII. Juegos infantiles
Disk 2
Federico Moreno-Torroba: Aires de la mancha: I. Jeringonza

Federico Moreno-Torroba: Aires de la mancha: II. Ya llegó el invierno

Federico Moreno-Torroba: Aires de la mancha: III. Copilla

Federico Moreno-Torroba: Aires de la mancha: IV. La pastora

Federico Moreno-Torroba: Aires de la mancha: V. Seguidilla

Federico Moreno-Torroba: Castillos de España: I. Alba de Tormes

Federico Moreno-Torroba: Castillos de España: II. Alcañiz

Federico Moreno-Torroba: Castillos de España: III. Alcázar

Federico Moreno-Torroba: Castillos de España: IV. Calatrava

Federico Moreno-Torroba: Castillos de España: V. Javier

Federico Moreno-Torroba: Castillos de España: VI. Manzanares del real

Federico Moreno-Torroba: Castillos de España: VII. Olite

Federico Moreno-Torroba: Castillos de España: VIII. Redaba

Federico Moreno-Torroba: Castillos de España: IX. Sigüenza

Federico Moreno-Torroba: Castillos de España: X. Torjia

Federico Moreno-Torroba: Castillos de España: XI. Turégano

Federico Moreno-Torroba: Castillos de España: X. Zafra

Federico Moreno-Torroba: Ráfagas: I. Allegretto

Federico Moreno-Torroba: Ráfagas: II. Adagio

Federico Moreno-Torroba: Ráfagas: III. Allegretto calmo

Federico Moreno-Torroba: Ráfagas: IV. Allegretto mosso
Disk 3
Federico Moreno-Torroba: Albada

Federico Moreno-Torroba: Suite Castellana: I. Fandanguillo

Federico Moreno-Torroba: Suite Castellana: II. Arada

Federico Moreno-Torroba: Suite Castellana: III. Danza

Federico Moreno-Torroba: Suite miniature: I. Llamanda

Federico Moreno-Torroba: Suite miniature: II. Tremolo

Federico Moreno-Torroba: Suite miniature: III. Vals

Federico Moreno-Torroba: Suite miniature: IV. Divertimento

Federico Moreno-Torroba: Piezas características: I. Preámbulo

Federico Moreno-Torroba: Piezas características: II. Oliveras

Federico Moreno-Torroba: Piezas características: III. Los mayos

Federico Moreno-Torroba: Piezas características: IV. Melodía

Federico Moreno-Torroba: Piezas características: V. Albada

Federico Moreno-Torroba: Piezas características: VI. Panorama

Federico Moreno-Torroba: Ocho preludios: I. Largo

Federico Moreno-Torroba: Ocho preludios: II. Allegretto

Federico Moreno-Torroba: Ocho preludios: III. Andante

Federico Moreno-Torroba: Ocho preludios: IV. Allegretto calmo

Federico Moreno-Torroba: Ocho preludios: V. Andantino

Federico Moreno-Torroba: Ocho preludios: VI. Allegretto vivace

Federico Moreno-Torroba: Ocho preludios: VII. Lento

Federico Moreno-Torroba: Ocho preludios: VIII. Allegro no mucho
Disk 4
Federico Moreno-Torroba: Aire vasco

Federico Moreno-Torroba: Alpujarrena

Federico Moreno-Torroba: Madrileñas: I. Tirana

Federico Moreno-Torroba: Madrileñas: II. Copla

Federico Moreno-Torroba: Madrileñas: III. Bolero

Federico Moreno-Torroba: Danza prima

Federico Moreno-Torroba: Tríptico: I. Pintoresca

Federico Moreno-Torroba: Tríptico: II. Romance

Federico Moreno-Torroba: Tríptico: III. Festiva

Federico Moreno-Torroba: Humorada

Federico Moreno-Torroba: Jota levantina

Federico Moreno-Torroba: Marcha del cojo

Federico Moreno-Torroba: Niña mersé

Federico Moreno-Torroba: Quiente

Federico Moreno-Torroba: Romancillo

Federico Moreno-Torroba: Ronda

Federico Moreno-Torroba: Ronda festiva

Federico Moreno-Torroba: Segoviana

Federico Moreno-Torroba: Sevillana

Federico Moreno-Torroba: Tonada

Federico Moreno-Torroba: Nocturno

Federico Moreno-Torroba: Trianeras

Federico Moreno-Torroba: Nocturno
Disk 5
Federico Moreno-Torroba: Vieja lejenda

Federico Moreno-Torroba: Romance de los pinos

Federico Moreno-Torroba: Zapateados

Federico Moreno-Torroba: Contraddanza

Federico Moreno-Torroba: Madroños

Federico Moreno-Torroba: Jaranera

Federico Moreno-Torroba: Molinera

Federico Moreno-Torroba: Taconeo clásico

Federico Moreno-Torroba: Punteado

Federico Moreno-Torroba: Ay malaguena

Federico Moreno-Torroba: Chisperada

Federico Moreno-Torroba: Bolero menorquin

Federico Moreno-Torroba: Preludio in E in A Major

Federico Moreno-Torroba: Improvisacion

Federico Moreno-Torroba: Farruca

Federico Moreno-Torroba: Cancioncilla

Federico Moreno-Torroba: Verbenera

Federico Moreno-Torroba: Sonata-Fantasía: I. Lento-Allegretto

Federico Moreno-Torroba: Sonata-Fantasía: II. Allegretto

Federico Moreno-Torroba: Sonata-Fantasía: III. Allegro-Allegro Maestoso-Andante-Allegro