Nichelmann: Harpsichord Sonatas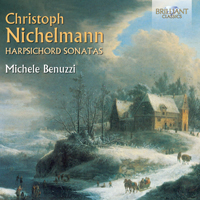 | | |
| --- | --- |
| Composer | Christoph Nichelmann |
| Artist | Michele Benuzzi |
| Format | 2 CD |
| Cat. number | 94809 |
| EAN code | 5028421948096 |
| Release | January 2015 |
About this release
When calling to mind harpsichord music of the Baroque period, the 24 Preludes and Fugues of J.S. Bach or the Pièces de clavecin by Couperin are perhaps the most immediately obvious choices. However, the music of Christoph Nichelmann (who is said to have studied with Bach) is equally inspired, and this release is the first step towards a more substantial recording of his oeuvre – indeed, it is the first recording solely dedicated to his output. One of a large number of composers whose music faded into obscurity after their death, Nichelmann is at last attracting the scholarly attention he deserves, largely thanks to today's vogue for discovering and promoting lesser-known repertoire.

This recording brings together the two sets of six sonatas from the middle of Nichelmann's life, printed in 1745, and which represent the only two surviving collections of his music. The style of his compositions is intriguing and eclectic: on the one hand we can still hear the heritage of Baroque music, and on the other the development of a more sensitive and expressive language – although not quite the bridge to the Classicism which we hear in the music of Bach's son, Carl Philipp Emanuel.

Described as an "outstanding musician" whose "artistry is evident in every work" (International Record Review), Michele Benuzzi returns to Brilliant Classics with this release, following the success of his recording of Hässler's harpsichord music (BC94293). He has been particularly lauded for his expressive playing and for the beautiful quality of his tone, and is an acknowledged specialist in music of the 17th and 18th centuries, with a particular interest in Baroque performance practice. He performs on an instrument modeled after a German harpsichord made shortly after Nichelmann's death, making for a highly authentic listening experience.

Other information:

• The first recording of the 12 sonatas Op. 1 and 2 by Nichelmann.
• Christoph Nichelmann, German composer and keyboard virtuoso, is said to have studied with Johann Sebastian Bach. This is clearly audible in his keyboard sonatas, which follow the contrapuntal Baroque style and instrumental flourish of his master. However, the publication year of 1745 already hints at further developments in terms of style and expression: certain harmonic experiments and emotional outbursts already foreshadow the Sturm und Drang style of Carl Philipp Emanuel Bach.
• Italian Michele Benuzzi is the perfect advocate of Nichelmann's keyboard output: with a deep understanding of the style he captures the right emotional temperature of these beautiful pieces.
• Michele Benuzzi already recorded for Brilliant Classics a CD with works by Hässler (BC94293) which received excellent reviews in the international press.
• Booklet contains liner notes, artist biography and details on the recording venue.
• Recorded in 2014.
Track list
Disk 1
Christoph Nichelmann: Sonata in G Minor, Op. 1 No. 1: I. Moderato

Christoph Nichelmann: Sonata in G Minor, Op. 1 No. 1: II. Largo

Christoph Nichelmann: Sonata in G Minor, Op. 1 No. 1: III. Allegro

Christoph Nichelmann: Sonata in D Major, Op. 1 No. 2: I. Allegretto

Christoph Nichelmann: Sonata in D Major, Op. 1 No. 2: II. Mesto

Christoph Nichelmann: Sonata in D Major, Op. 1 No. 2: III. Allegro

Christoph Nichelmann: Sonata in B Minor, Op. 1 No. 3: I. Un poco allegro

Christoph Nichelmann: Sonata in B Minor, Op. 1 No. 3: II. Andantino

Christoph Nichelmann: Sonata in B Minor, Op. 1 No. 3: III. Presto

Christoph Nichelmann: Sonata in G Major, Op. 1 No. 4: I. Allegretto

Christoph Nichelmann: Sonata in G Major, Op. 1 No. 4: II. Largo

Christoph Nichelmann: Sonata in G Major, Op. 1 No. 4: III. Vivace

Christoph Nichelmann: Sonata in C Minor, Op. 1 No. 5: I. Un poco allegro

Christoph Nichelmann: Sonata in C Minor, Op. 1 No. 5: II. Andante

Christoph Nichelmann: Sonata in C Minor, Op. 1 No. 5: III. Presto

Christoph Nichelmann: Sonata in F Major, Op. 1 No. 6: I. Allegro

Christoph Nichelmann: Sonata in F Major, Op. 1 No. 6: II. Adagio

Christoph Nichelmann: Sonata in F Major, Op. 1 No. 6: III. Presto
Disk 2
Christoph Nichelmann: Sonata in B-Flat Major, Op. 2 No. 1: I. Allegretto

Christoph Nichelmann: Sonata in B-Flat Major, Op. 2 No. 1: II. Largo

Christoph Nichelmann: Sonata in B-Flat Major, Op. 2 No. 1: III. Presto

Christoph Nichelmann: Sonata in F Minor, Op. 2 No. 2: I. Un poco allegro

Christoph Nichelmann: Sonata in F Minor, Op. 2 No. 2: II. Andante

Christoph Nichelmann: Sonata in F Minor, Op. 2 No. 2: III. Vivace

Christoph Nichelmann: Sonata in A Major, Op. 2 No. 3: I. Allegro

Christoph Nichelmann: Sonata in A Major, Op. 2 No. 3: II. Largo

Christoph Nichelmann: Sonata in A Major, Op. 2 No. 3: III. Allegretto

Christoph Nichelmann: Sonata in D Minor, Op. 2 No. 4: I. Allegro

Christoph Nichelmann: Sonata in D Minor, Op. 2 No. 4: II. Adagio

Christoph Nichelmann: Sonata in D Minor, Op. 2 No. 4: III. Allegro

Christoph Nichelmann: Sonata in E-Flat Major. Op. 2 No. 5: I. Allegro

Christoph Nichelmann: Sonata in E-Flat Major. Op. 2 No. 5: II. Andante

Christoph Nichelmann: Sonata in E-Flat Major. Op. 2 No. 5: III. Allegro

Christoph Nichelmann: Sonata in A Minor, Op. 1 No. 6: I. Allegro

Christoph Nichelmann: Sonata in A Minor, Op. 1 No. 6: II. Andante

Christoph Nichelmann: Sonata in A Minor, Op. 1 No. 6: III. Presto