Paganini: Violin Concertos Nos. 1 and 2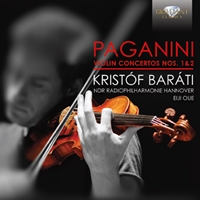 Composer
Nicolò Paganini
Artist
Kristóf Baráti violin
NDR Radiophilharmonie Hannover
Eiji Oue conductor
Format
1 CD
Cat. number
94803
EAN code
5028421948034
Release
December 2013
About this release
Among the most revered virtuosos of all time, Nicolò Paganini was a true musical legend of his era, inspiring musicians such as Roberto Schumann to forge his own career as a pianist. Franz Schubert was also a regular audience member at Paganini's concerts, despite the outlandish ticket prices.

Paganini often remarked that, despite his legendary status as a violinist, he found it rather difficult to compose for the instrument. This release brings together the Italian maestro's two violin concertos: No.1, his first large work, was written around 1817 but published posthumously in 1851, and the second dates from 1826. Audiences were wowed at the premiere of No.1, thanks to its many extended passages of double-stopping and harmonics. Concerto No.2 in B minor is nicknamed 'La campanella', famous for its third-movement Rondo that employs a small bell at each reinstatement of the theme.

Kristóf Baráti is the soloist, performing the works on his much-loved 'Lady Harmsworth' Stradivarius violin. The release is a welcome addition to his ever-growing Brilliant Classics discography, of which Beethoven's Complete Violin Sonatas (94310) garnered such reviews as 'today's reference recording' (Frankfurte Allgemeine). Here he is joined by esteemed conductor Eiji Oue and the NDR Radiophilharmonie Hannover.

Other information:
- Recorded 22–25 September 2008, Großer Sendesaal des NDR Landesfunkhauses, Hanover.
- Hungarian Kristóf Baráti is recognised as one of the most outstanding violinists of his generation. His dazzling technique (often compared with the young Heifetz), his sincere, intensely musical interpretations and strong personality have brought him to today's top. His recordings are widely acclaimed; garnering 5 star reviews in the international press (his Beethoven Violin Sonatas with pianist Klára Würtz are considered "today's reference recordings" by a leading German newspaper).
- This release presents two virtuoso showcases, the violin concertos nos. 1 & 2 by Paganini, the wizard of the violin, suspected of having sold his soul to the devil in order to receive a transcendent technique. Baráti's crystal clear playing makes these concertos a sheer delight, brilliant and exhilarating.
- Contains notes on the work and performer biographies.
Track list
Disk 1
Violin Concerto No. 1 in D Major, Op. 6: I. Allegro maestoso (Cadenza by Émile Sauret)

Violin Concerto No. 1 in D Major, Op. 6: II. Adagio

Violin Concerto No. 1 in D Major, Op. 6: III. Rondo. Allegro spiritoso

Violin Concerto No. 2 in B Minor, Op. 7: I. Allegro maestoso (Cadenza by Kristóf Baráti)

Violin Concerto No. 2 in B Minor, Op. 7: II. Adagio

Violin Concerto No. 2 in B Minor, Op. 7: III. Rondo à la clochette "La campanella"