Reis: Guitar Music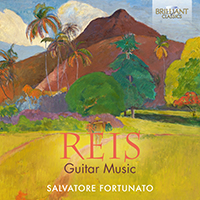 Download booklet
| | |
| --- | --- |
| Composer | Dilermando Reis |
| Artist | Salvatore Fortunato guitar |
| Format | 1 CD |
| Cat. number | 95939 |
| EAN code | 5028421959399 |
| Release | April 2019 |
About this release
The sound of Rio: Songs by an icon of the Brazilian popular guitar, reinterpreted by an accomplished young Italian soloist.

The most famous Brazilian popular guitarist of the last century, Dilermando Reis (1916-1977) recorded over 40 albums between 1941 and 1975. These covered Bach, Barrios, Tárrega, as well as popular Brazilian composers – foremost among whom was Reis himself, who had learnt the instrument from his father, Fernando.

Songs such as Dois Destinos and Se Ela Perguntar have become standards of the Brazilian guitar tradition. Sentimental, memorable, nostalgic, Reis's music conjures memories of bygone eras for many Brazilians. His skill as an artist lay in not only crafting the kind of melody that's newbut instantly recognisable, but also adapting time-honoured native forms such as the choros to fit those melodies. No less 'Brazilian' in character than the work of Heitor Villa-Lobos, Reis's music speaks to a worldwide audience.

For some time, the songs of Dilermando Reis were inimitably associated with his own performances preserved on record. Now, however, a new generation of guitarists outside Brazil is taking an interest in his music and making it their own. Among the most distinguished of them is Salvatore Fortunato, born in Genoa in 1990 and now a professor at the prestigious Accademia Chitarristica Castelli Romani. International recognition has included many competition successes and the 2014 Young Artist Award made by the Cattedrali Letterarie Europee in Rome. This album marks his debut on Brilliant Classics.

Dilermando Reis (1916-1977) was probably the most important and famous guitarist of Brazil. He was born in Sao Paulo but he worked most of his life in Rio de Janeiro. His many recordings and broadcasts on national radio made him a figure of national importance and a musical star.
Reis' original compositions for guitar solo are in vintage Brazilian style, the Latin-American dance rhythms are supported by his inimitable harmonic language, expressing that typical Brazilian "Saudade", the inexplicable sense of longing and sadness.
Italian guitarist Salvatore Fortunato (1990) is a winner of several international competitions, he regularly appears on TV and radio, and has an active career as a soloist and chamber music player.
Listening
Track list
Disk 1
Dilermando Reis: Caboclinho

Dilermando Reis: Alma Apaixonada

Dilermando Reis: Dois destinos

Dilermando Reis: Promessa

Dilermando Reis: Se ela perguntar

Dilermando Reis: Gente boa

Dilermando Reis: Súplica

Dilermando Reis: Uma valsa e dois amores

Dilermando Reis: Fim de festa

Dilermando Reis: Xodó da baiana

Dilermando Reis: Desengano

Dilermando Reis: Eterna saudade

Dilermando Reis: Feitiço

Dilermando Reis: Sandrinha

Dilermando Reis: Sobradinho

Dilermando Reis: Vê se te agrada

Dilermando Reis: Tempo de criança

Dilermando Reis: Ternura