Short Cuts: 50 Piano Pieces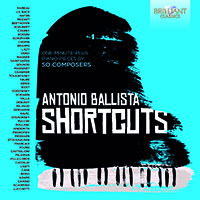 | | |
| --- | --- |
| Artist | Antonio Ballista piano |
| Format | 2 CD |
| Cat. number | 95615 |
| EAN code | 5028421956152 |
| Release | December 2020 |
About this release
This remarkable collection of music for solo piano takes one short-form piece (ranging in length from just under half a minute to just over five) by each of 50 composers, forming a cross-section of piano music spanning the centuries from Rameau, born in 1683, to Alessandro Lucchetti, born in 1958.

That a listener can make this astounding journey through piano music from the Baroque to the Contemporary in the space of two compact discs is truly a "shortcut" through the ages – but it misses nothing along the way. The programme is jam-packed with detail and character in its compact space.

Ballista demonstrates how each composer is able to thoroughly express his style in a handful of bars, even if it means he must be incredibly versatile as a performer, continually adapting and readapting himself to the new territory of each musical microcosm.

As he rightly points out, the brevity of these pieces means they are seldom programmed in recitals, such that even well-known composers are represented here by music that is likely to be a revelation to the listener.

Guiding us through the twists and turns of this miniature labyrinth, Ballista offers a nine-word epigram to introduce each piece, compact as a haiku, they are often amusing, yet invariably thought-provoking.

A special and intriguing concept: ultra-short (one minute plus) piano pieces by 50 composers, encompassing 3 centuries, starting with Rameau and ending with Sciarrino, Crumb, Ligeti and Berio.
Much can be said with few words, and so much can be expressed in a few notes; some composers struggled with large forms but could say a deep truth in one page.
Italian pianist Antonio Ballista colourful career includes the great classical repertoire, but he has also explored worlds such as those of ragtime, Italian and American popular songs, rock, and soundtrack music for the cinema. He has worked with Abbado, Bertini, Boulez, Brüggen, Chailly, Maderna and Muti, and played with orchestras such as BBC Symphony, the Concertgebouw, Israel Philharmonic, Filarmonica della Scala, Wiener Philharmoniker, l'Orchestre de Paris, Philadelphia Orchestra, London Symphony, and New York Philharmonic. Composers who wrote for him include Berio, Bussotti, Donatoni, Sciarrino and others.
Track list
Disk 1
Jean-Philippe Rameau: Suite in G Major: IV. La poule

Johann Sebastian Bach: Jesu, Joy of Man's Desiring, BWV 147

Joseph Haydn: Allegretto in G Major, Hob:XVII:10

Wolfgang Amadeus Mozart: Marche funèbre del Sig.r Maestro Contrapunto in C Minor, K. 453a

Ludwig van Beethoven: Bagatelle in C Major, WoO 54 "Lustig–Traurig"

Franz Schubert: Waltz in G Major, D.844

Carl Czerny: Bear Dance, Op. 35

Gioacchino Rossini: Prélude from péchés de vieillesse, Vol. XIII Musique anodine

Robert Schumann: Theme in E-Flat Major, RSW:Anh:F39

Frédéric Chopin: Prélude in A-Flat Major, B.86

Johannes Brahms: Sarabande in A Minor WoO 5/1

Franz Liszt: Bagatelle sans tonalite, S.216a

Giuseppe Verdi: Waltz in F Major

Richard Wagner: Albumblatt

Camille Saint-Saëns: Le Carnaval des animaux: XIII. Le cygnet

Charles Gounod: Marche funèbre d'une marionette, CG 583

Jules Massenet: 10 Pièces de genre Op.10: V. Mélodie

Emmanuel Chabrier: Ballabile

Piotr Ilyich Tchaikovsky: Berceuse: Andante mosso from 18 morceaux, Op. 87

Gabriel Fauré: 8 Pièces brèves Op. 84: VII. Allégresse

Edvard Hagerup Grieg: Lyric Pieces, Op. 12: I. Arietta

Georges Bizet: Scènes bohémiennes: IV. Danse bohémienne

Leopold Godowsky: Triakontameron: XI. Alt Wien

Alexander Scriabin: 3 Pieces, Op. 45: III. Poème fantasque

Manuel de Falla: El sombrero de tres picos: V. Danza del molinero
Disk 2
Claude Debussy: D'un cahier d'esquisses. Très lent

Darius Milhaud: Saudades do Brasil, Op. 67: V. Ipanema

George Jacob Gershovitz Gershwin: Promenade in C Major

Maurice Ravel: Prélude, M.65

Igor Stravinsky: Piano-Rag-Music

Giacomo Puccini: Foglio d'album in B-Flat Major, SC 81

Francis Poulenc: Mouvement perpétuel No. 1, FP 14

Paul Hindemith: Suite für Klavier Op. 26: V. Ragtime

Sergei Prokofiev: The Love for Three Oranges, Op. 33b: III. March

Olivier Messiaen: Préludes: III. Le nombre léger

Karl Heinz Stockhausen: Klavierstück III

Jean Françaix: III. Hommage à Domenico Scarlatti

La Monte Young: Composition 1960 #7

Niccolò Castiglioni: Come io passo l'estate: VI. La fontanella di Ganna

Morton Feldman: Intermission 6

Heitor Villa-Lobos: A prole do bebê, Book I: VII. O polichinelo

Paolo Castaldi: Caro babbo

György Ligeti: Allegro con spirito

John Cage: Totem Ancestor for prepared piano

Luciano Berio: Erdenklavier

John Adams: China Gates

Bruno Canino: Un microritratto

Salvatore Sciarrino: Anamorfosi

Alessandro Lucchetti: The Grey Veil

George Crumb: Makrokosmos, Vol. II: VII. Tora! Tora! Tora!