Telemann: The Double Concertos with Recorder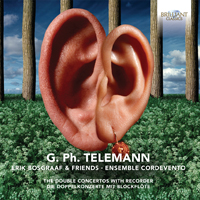 Composer
Georg Philipp Telemann
Artist
Erik Bosgraaf recorder & direction
Anna Besson traverso
Yi-Chang Liangrecorder
Robert Smith viola da gamba
Marije van der Ende bassoon
Ensemble Cordevento
Format
1 CD
Cat. number
95249
EAN code
5028421952499
Release
September 2016
About this release
Erik Bosgraaf has won international acclaim for his Brilliant Classics recordings of music from Jakob van Eyck (Der Fluyten Lust Hof, BC93391) to Pierre Boulez (Dialogues, BC94842). His discography includes no fewer than three previous albums dedicated to Georg Philipp Telemann, the composer who more than any other in the German Baroque elevated the recorder and its relatives to the status of a high-art instrument, capable of hitherto undreamt expressive range and technical refinement.

Following those albums of solo fantasias, accompanied sonatas, and suites and concertos (BC93757, BC95247, BC95249), Bosgraaf now presents a selection of concertos, composed during the first decades of the eighteenth century, in which he is paired with a second soloist, be it another recorder, a bassoon or viola da gamba. Telemann himself confessed that his concertos 'smell of France', which may indeed be scented not only in some of their movement titles but in the stately dotted rhythms and graceful ornamentation of their slower movements.

However, Telemann also imbues ritornellos and especially solo episodes with great rhythmic drive, primarily derived from Polish folk music, and continually surprises the listener with rapid switches between short-range and long-range imitation, unpredictable rhythmic patterns and quick-fire banter with the orchestra. The only conservative feature of these concertos is their four-movement form, slow–fast–slow–fast.

Bosgraaf is partnered by his own Ensemble Cordevento and joined by distinguished 'period'-trained instrumentalists from the UK, Germany and his native Netherlands. The album makes an ideal taster to the musical banquet which will be laid on throughout 2017, in celebration of Telemann's 250th birthday.

The third new recording by recorder phenomenon Erik Bosgraaf of music by Georg Philipp Telemann, as a preparation for the Telemann-year 2017.
This recording contains the double concertos with recorder: for two recorders or in combination with traverso, bassoon or viola da gamba. Telemann himself was a professional recorder player. These concertos contain some of his most personal music, his usual brilliance, wit and virtuosity alternate with passages of deep emotion and melancholy.
Erik Bosgraaf is one of the most remarkable recorder players of today. Equally at home in early as well as contemporary music he extends the limits of his instrument, achieving an extreme range of expression and unheard-of effects.
Liner notes in English and German.
Excellent reviews for the previous Telemann recordings: "5 stars! Temperamentvoll und inspiriert" (Klassik.com), "Mitreissender Enthusiasmus! CD Tipp SWR Radio".
Track list
Disk 1
Georg Philipp Telemann: Concerto for Recorder and Flute in E Minor, TWV 52:e1: I. Largo

Georg Philipp Telemann: Concerto for Recorder and Flute in E Minor, TWV 52:e1: II. Allegro

Georg Philipp Telemann: Concerto for Recorder and Flute in E Minor, TWV 52:e1: III. Largo

Georg Philipp Telemann: Concerto for Recorder and Flute in E Minor, TWV 52:e1: IV. Presto

Georg Philipp Telemann: Concerto for 2 Recorders in A Minor, TWV 52:a2: I. Gravement

Georg Philipp Telemann: Concerto for 2 Recorders in A Minor, TWV 52:a2: II. Vistement

Georg Philipp Telemann: Concerto for 2 Recorders in A Minor, TWV 52:a2: III. Largement

Georg Philipp Telemann: Concerto in for 2 Recorders in A Minor, TWV 52:a2: IV. Vivement

Georg Philipp Telemann: Concerto for Recorder and Bassoon in F Major, TWV 52:F1: I. Largo

Georg Philipp Telemann: Concerto for Recorder and Bassoon in F Major, TWV 52:F1: II. Vivace

Georg Philipp Telemann: Concerto for Recorder and Bassoon in F Major, TWV 52:F1: III. —

Georg Philipp Telemann: Concerto for Recorder and Bassoon in F Major, TWV 52:F1: IV. Allegro

Georg Philipp Telemann: Concerto for Recorder and Viola da Gamba in A Minor ,TWV 52:a1: I. Grave

Georg Philipp Telemann: Concerto for Recorder and Viola da Gamba in A Minor ,TWV 52:a1: II. Allegro

Georg Philipp Telemann: Concerto for Recorder and Viola da Gamba in A Minor ,TWV 52:a1: III. Dolce

Georg Philipp Telemann: Concerto for Recorder and Viola da Gamba in A Minor ,TWV 52:a1: IV. Allegro

Georg Philipp Telemann: Concerto for 2 Recorders in B-Flat Major, TWV 52:B1: I. Grave

Georg Philipp Telemann: Concerto for 2 Recorders in B-Flat Major, TWV 52:B1: II. Vivace

Georg Philipp Telemann: Concerto for 2 Recorders in B-Flat Major, TWV 52:B1: III. Tendrement

Georg Philipp Telemann: Concerto for 2 Recorders in B-Flat Major, TWV 52:B1: IV. Gayment