Turrini: 12 Sonatas for Harpsichord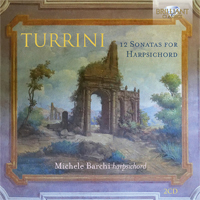 Download booklet
| | |
| --- | --- |
| Composer | Ferdinando Gasparo Turrini |
| Artist | Michele Barchi harpsichord |
| Format | 2 CD |
| Cat. number | 95522 |
| EAN code | 5028421955223 |
| Release | September 2019 |
About this release
Early-Classical keyboard sonatas by a north-Italian contemporary of Beethoven, much esteemed in his day and now almost unknown.

Brilliant Classics has long specialised in illuminating the music of composers who are largely lost to posterity – especially from Italy, and especially from the 17th and 18th centuries. Here is another name to conjure with and to quicken the blood of collectors eager to add another name to their shelves: Ferdinando Turrini, born in the town of Salò in 1845. His death date is much more uncertain – between 1812 and 1829 – but he passed away in Brescia, where he had become a much esteemed teacher, organist, master of music and composer.

Blindness afflicted Turrini in his late 20s, but it appears not to have stemmed the flow of an output that ranged from operas to sacred and instrumental music. Nearly all of it is now lost to us, and what survives does so almost exclusively in manuscript. In fact the six keyboard sonatas dedicated to the Genovese patrician Carlo Spinola were printed during Turrini's lifetime, whereas the other six sonatas on Michele Barchi's new recording, dedicated to the Venetian nobleman Vincenzo Fini, have come down to us in handwritten copies.

The two-movement 'Spinola' sonatas are lively and imaginative enough, but it is in the Fini sonatas that a kinship with Turrini's contemporary Beethoven becomes evident. These works far transcend their galant context, and could equally well be performed on the fortepiano, composed as they were on the cusp of keyboard-instrument history. The style that one contemporary described as 'dolce patetico' ('sweet and full of feeling') is particularly evident in the intensity of the slow movements: for instance, in the 'Adagio ad imitazione del Violoncello' of the Sonata No.5.

Michele Barchi is an experienced early-music keyboard musician who has worked with the likes of the late Claudio Abbado and with Riccardo Muti. Among his recordings is a contribution to the compendious 'Bach 2000' edition issued by Warner Classics. This album marks his debut on Brilliant Classics.

"A blind man came to shed light on our darkness", thus said his contemporaries of Ferdinando Turrini (1745-1829). Blind and crippled on one hand he nevertheless played the keyboard beautifully: "One can only admire his boundless creativity, feeling, spirit and graceful articulation". Turrini held the important post of organist of the St. Giustina church in Padua, and he died in Brescia, lamented by his numerous students.
Turrini's 12 Sonatas are written in two movements, one fast and lively, the other calm and meditative. Though rooted in the Galante Style they sometimes go beyond its restrictions, in terms of individual expression of emotions and technical complexities, prompting the great Gabriele d'Annunzio to draw comparisons with Beethoven.
Harpsichordist Michele Barchi was harpsichord player of Il Giardino Armonico, a member of the Lucerne Festival orchestra conducted by Claudio Abbado and a sought-after soloist: he recorded Bach solo keyboard works for Teldec.
Listening
Track list
Disk 1
Ferdinando Gasparo Turrini: Sonata No. 1 in C Minor: I. Vivace

Ferdinando Gasparo Turrini: Sonata No. 1 in C Minor: II. Adagio

Ferdinando Gasparo Turrini: Sonata No. 1 in C Minor: III. Schiava

Ferdinando Gasparo Turrini: Sonata No. 2 in A Major: I. Allegro assai con molto brio

Ferdinando Gasparo Turrini: Sonata No. 2 in A Major: II. Lento ed affettuoso, il basso sempre legato – Trio

Ferdinando Gasparo Turrini: Sonata No. 3 in E-Flat Major: I. Allegro ma non tanto con illarità

Ferdinando Gasparo Turrini: Sonata No. 3 in E-Flat Major: II. Adagio pensieroso

Ferdinando Gasparo Turrini: Sonata No. 3 in E-Flat Major: III. Presto assai risoluto

Ferdinando Gasparo Turrini: Sonata No. 4 in B Minor: I. Presto

Ferdinando Gasparo Turrini: Sonata No. 4 in B Minor: II. Andante

Ferdinando Gasparo Turrini: Sonata No. 5 in G Major: I. Allegro cantabile

Ferdinando Gasparo Turrini: Sonata No. 5 in G Major: II. Adagio ad imitazione del violuncello

Ferdinando Gasparo Turrini: Sonata No. 5 in G Major: III. Tema con variazioni

Ferdinando Gasparo Turrini: Sonata No. 6 in E Major: I. Allegretto spiritoso

Ferdinando Gasparo Turrini: Sonata No. 6 in E Major: II. Grave

Ferdinando Gasparo Turrini: Sonata No. 6 in E Major: III. Rondò
Disk 2
Ferdinando Gasparo Turrini: Sonata No. 1 in G Major: I. Allegro moderato

Ferdinando Gasparo Turrini: Sonata No. 1 in G Major: II. Andantino brillante

Ferdinando Gasparo Turrini: Sonata No. 2 in A Major: I. Allegretto con spirit

Ferdinando Gasparo Turrini: Sonata No. 2 in A Major: II. Variazione

Ferdinando Gasparo Turrini: Sonata No. 3 in E Major: I. Allegro

Ferdinando Gasparo Turrini: Sonata No. 3 in E Major: II. Presto

Ferdinando Gasparo Turrini: Sonata No. 4 in G Minor: I. Presto

Ferdinando Gasparo Turrini: Sonata No. 4 in G Minor: II. Allegretto affettuoso

Ferdinando Gasparo Turrini: Sonata No. 5 in E-Flat Major: I. Allegro ma non troppo

Ferdinando Gasparo Turrini: Sonata No. 5 in E-Flat Major: II. Allegro

Ferdinando Gasparo Turrini: Sonata No. 6 in D-Flat Major: I. Allegro assai

Ferdinando Gasparo Turrini: Sonata No. 6 in D-Flat Major: II. Un poco andante

Ferdinando Gasparo Turrini: Sonata No. 6 in D-Flat Major: III. Prestissimo