Zamboni: Lute Music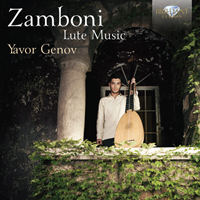 | | |
| --- | --- |
| Composer | Giovanni Zamboni |
| Artist | Yavor Genov lute |
| Format | 1 CD |
| Cat. number | 94767 |
| EAN code | 5028421947679 |
| Release | May 2014 |
About this release
Italian composer Giovanni Zamboni is somewhat of a mystery to the modern listener. Very little is known of his life; he was born in Rome in the latter part of the 17th century, became a virtuoso on the theorbo, lute, harpsichord, guitar, mandore and mandolin, and had a side-career as a jeweller. Several of his compositions have been lost over the years, but among his published works is a collection of four-part madrigals and a collection of solo lute music, the Sonate d'intavolatura di leuto.

Published in Lucca in 1718, the Sonate d'intavolatura di leuto is among the latest sources of solo lute music, written in Italian tablatures. The works contained within show the blurring of lines between the two accepted styles of sonata; those for the church (da chiesa) and those for domestic use (da camera). Many of Zamboni's lute sonatas are written in four-part sets, containing mainly dance movements. This makes No.11 distinctly atypical, as its Currante, Sarabanda and Minuet – which signal a da camera purpose – contrast with its opening movement, a Grave, much more characteristic of the seriousness of the da chiesa style.

Bulgarian-born Yavor Ganov studied classical guitar at the University of Sofia, where he developed an interest in Medieval, Renaissance and Baroque music. He has given recitals throughout Bulgaria as well as in The Netherlands and Sweden, and has performed with the European Union Baroque Orchestra. He has previously recorded the works of Giovanni Kapsberger for Brilliant Classics (2012).

Other information:
- Recorded in 2013, Bulgarian National Radio studio.
- Giovanni Zamboni was one of the Masters of the Lute in 18th century Italy. His "Sonate d'Intavolatura di Leuto" contains Sonatas written in four parts, mainly on dance forms like Sarbande, Corrente, Minuet. It is music of great charm and tenderness, perfectly suited to the sweet and gentle sound of the lute.
- Bulgarian lutenist Yavor Genov already made a recording for Brilliant Classics of lute music by Kapsberger (BC94409): "played with elan and exquisite taste, delicate colours and deep understanding" (Klassik.com).
- Booklet, written by Yavor Genov, contains notes on the music and an artist biography.
Track list
Disk 1
Sonata No. 8: I. Arpeggio

Sonata No. 8: II. Alemanda

Sonata No. 8: III. Giga

Sonata No. 8: IV. Sarabanda

Sonata No. 8: V. Minuet

Sonata No. 9: I. Preludio

Sonata No. 9: II. Alemanda

Sonata No. 9: III. Giga

Sonata No. 9: IV. Sarabanda. Largo

Sonata No. 9: V. Gavotta. Allegro

Sonata No. 1: I. Preludio

Sonata No. 1: II. Alemanda

Sonata No. 1: III. Currente

Sonata No. 1: IV. Sarabanda. Largo

Sonata No. 1: V. Minuet

Sonata No. 5: I. Alemanda

Sonata No. 5: II. Currente

Sonata No. 5: III. Sarabanda. Largo

Sonata No. 5: IV. Minuet

Sonata No. 3: I. Alemanda

Sonata No. 3: II. Giga

Sonata No. 3: III. Sarabanda. Andante

Sonata No. 3: IV. Fuga

Sonata No. 11: I. Grave

Sonata No. 11: II. Currente

Sonata No. 11: III. Sarabanda. Largo

Sonata No. 11: IV. Minuet

Sonata No. 10: I. Alemanda

Sonata No. 10: II. Currente

Sonata No. 10: III. Sarabanda. Largo

Sonata No. 10: IV. Burree

Ceccona