Glass & Kancheli & Tuur: Music for Violin and Piano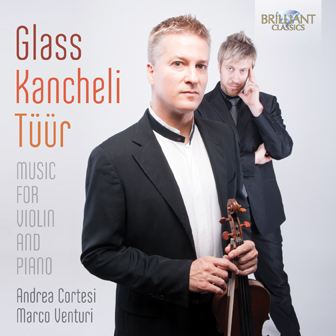 Composer
Erkki-Sven Tüür, Giya Kancheli, Philip Glass
Artist
Andrea Cortesi violin
Marco Venturi piano
Format
1 CD
Cat. number
94814
EAN code
5028421948140
Release
September 2014
About this release
This special collection brings together three minimalist works for violin and piano by composers of three nationalities – the USA's Philip Glass, Georgian Giya Kancheli and Estonia's Erkki-Sven Tüür. Each of the three pieces explores different facets of the genre, providing a showcase of what can be achieved within the minimalist framework.

Glass' Sonata for Violin and Piano begins with the rhythmic pulsations and wheel of emotions of the first movement, followed by the intimate second and dance-like final movement. In Kancheli's Time … and again, silence is used to juxtapose improvised outbursts of sound, while Tüür's Conversio creates a rhythmic interaction between the two instruments, which begin in counterpoint and later converge into parallel activity.

Violinist Andrea Cortesi is a soloist, chamber musician and section leader in orchestras, he has become renowned for his collaborations with contemporary composers such as Philip Glass, Leo Brouwer and Ennio Morricone, among others. Founder of the Millennium Chamber Orchestra, Quartetto Mosaico and Collegium Tiberinum, he has also performed with such eminent artists as Yo-Yo Ma and Riccardo Muti. Marco Venturi leads an active career as a concert pianist – as a soloist and as part of the Venturi Duo – and is also becoming an increasingly sought-after choral and orchestral conductor.

Other information:
- Recorded in 2013.
- Music for violin and piano by three composers from three different countries, who have a fascination with minimal music, the music where repetition, silence and meditation are predominant, music for a different mindset.
- This new recording presents the important Violin Sonata by Philip Glass, one of the pioneers and icons of Minimal Music, "Time…and again" by the Russian mystic Giya Kancheli, and "Converso" by Erkki Tüür, one of the Baltic minimalists, in the spirit of Arvo Pärt.
- Played with great subtlety by two Italians, violinist Andrea Cortesi and pianist Marco Venturi.
- New recording, booklet contains liner notes and artist biographies.
- Contains liner notes and performer biographies.
Track list
Disk 1
Philip Glass: Sonata for Violin and Piano: I. Movement I (2008)

Philip Glass: Sonata for Violin and Piano: II. Movement II (2008)

Philip Glass: Sonata for Violin and Piano: III. Movement III (2008)

Giya Kancheli: Time … and Again (1996)

Erkki-Sven Tüür: Conversio (1994)