Taracea: A Mosaic of Ingenious Music Spanning Five Centuries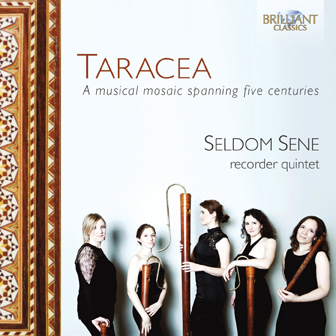 | | |
| --- | --- |
| Composer | Anthony Holborne, Johann Sebastian Bach, Joseph Bodin de Boismortier |
| Artist | Seldom Sene |
| Format | 1 CD |
| Cat. number | 94871 |
| EAN code | 5028421948713 |
| Release | September 2014 |
About this release
Taracea (Spanish) is defined as 'an inlaid decorative work made from small pieces of different coloured woods and other fine materials, arranged to form intricate geometric shapes' (liner notes). This is exactly what is represented in this colourful and eclectic mix of music, most of which has been specially arranged for recorders by the artists on the recording. The works span the ancient and modern eras – from Christopher Tye and Antonio de Cabezón to Frans Geysen and Aspasia Nasopoulou – and many have been adapted from Renaissance and Baroque sacred vocal compositions; one of the challenges pertaining to this music is evoking the original sung idiom through instrumental language.

Recorder quintet Seldom Sede was formed in 2009 after the five performers met at the Amsterdam Conservatoire. Among the awards won by the group are First Prize at the 2009 Concours International d'Ensembles de Flûte in Le Mans, France (their debut) and the Interpretation Prize at the 17th Concours International de Musique de Chambre d'Illzach in 2011 by a unanimous jury. The ensemble has been hailed as 'Outstanding because of their excellent musical interpretation and beautiful choice of repertoire' (Frédéric de Roos, 2009) and has appeared all over Europe in concert series and festivals. The musicians perform on a collection of more than 50 recorders.

Other information:
- Recording made in 2013.
- Taracea is the Spanish word for an inlaid decorative work of pieces of coloured wood. This craft was a source of inspiration for the recorder ensemble Seldom Sene in their choice of repertoire fort heir first CD: a juxtaposition of masterworks for 5 centuries, together forming a harmonious unity. We find works by Renaissance masters Cabezon, Josquin, Tallis, Tye, we travel the Baroque with Holborne, Boismortier and Bach, we end up in the 20-th century with Reger, Gheysen, Nasapoulou: a fascinating journey!
- The Dutch ensemble Seldom Sene plays a wide variety of instruments, from the twittering sopranino to the deep sonority of the bass recorder, an immense spectrum of sounds.
- Excellent and extensive liner notes by the artists, as well as biographies and photos.
- Booklet contains instrument specifications as well as notes on the music and an ensemble biography in English and Dutch (German and Spanish available for download by clicking on 'Download booklet', below the cover (on release).
Track list
Disk 1
Susana un jur

Choralvorspiel zu "Aus tiefer Not schrei' ich zu dir"

30 Little Choral Preludes, Op. 135a: IV. Aus tiefer Not schrei' ich zu Dir

Brandenburg Concerto No. 6, BWV 1051. III. Allegro

Omtrent A-B-C

Mirabile mysterium in A Major

Fantasia, BWV 904

Fugue, BWV 546

O sacrum convivium

Fantasia after Marenzio's 'O voi che suspirate'

Seldom sene

A knell

Die Sonne

Concerto in A Minor, Op. 15 No. 2: I. Allegro

Concerto in A Minor, Op. 15 No. 2: II. Largo

Concerto in A Minor, Op. 15 No. 2: III. Allegro

The Image of Melancholly

The Fruit of Love

Almain

Lelia doura

Ave regina caelorum

La Spagna